We've seen some pretty creative DIY prom attire this year, from dresses made of Doritos bags to gum wrappers and even duct tape. But Wisconsin teen Mariah Herron's homemade dress idea -- camouflage-themed -- required her to call in some extra help. The 17-year-old ended up asking her military dad, David Herron, to make it for her.
According to Fox News, her father learned to sew during his time in the army. They picked "Snow White Camouflage" material from a local fabric store, took over their living room as a workspace and two months later, Mariah's custom-made "hunting dress" was finished.
"I think she likes it," David told the Marshfield News Herald. "She asked me if I'd make her wedding dress."
Check out an adorable photo of the crafty daddy-daughter duo, below, and click here to read the full story on News-Herald Media.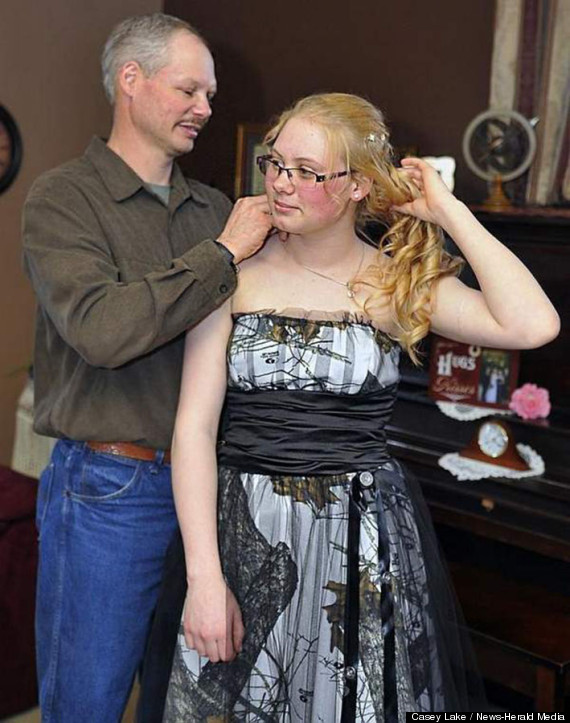 Mariah's DIY prom-wear approach, however, may not be representative of most teens this year. According to the Associated Press, families who are choosing to spend money on prom are spending as much as $1,139 for the event.
"You don't want to be competing with anyone," said Darby McDaniel, a high school junior. "You don't want to be outshined."
Do you feel pressure to spend money for the big day? Are you going DIY for your prom-wear? Tell us in the comments or tweet @HuffPostTeen!
BEFORE YOU GO
PHOTO GALLERY
Crazy Prom Dresses