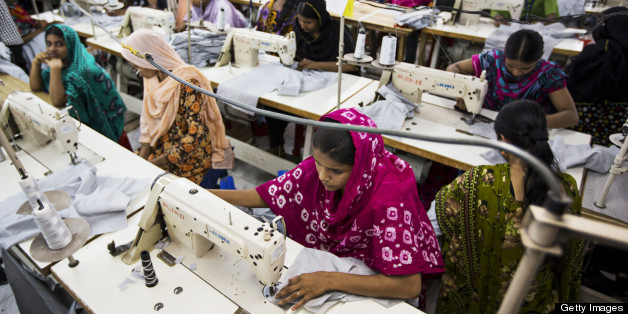 The deadly collapse of a Bangladesh garment factory shined a light on the unsafe conditions so many of the industry's workers grapple with on a daily basis. Yet any potential for large-scale change remains largely elusive. So for now, here are ten frightening truths that help explain life in the Bangladesh garment industry:
It's risky work: Bangladesh garment workers often toil away in unsafe buildings where the exits and windows are often blocked. That's resulted in part in more than 800 garment workers dying over the past decade as a direct result of their work, according to the Wall Street Journal.
The wages are very low: The minimum wage in Bangladesh is $37 per month, according to The New York Times. And the monthly entry-level wage for a garment worker is slightly above $40, just one-quarter of China's, according to the WSJ.
The factories use child labor: Despite some progress, children are still involved in the production of textiles in Bangladesh, according to the Department of Labor.
Demanding higher wages can prove deadly: One labor leader who did just that was found murdered last year, according to the WSJ.
It's difficult to access the factories in case of emergency: It took firefighters all night to put out a fire in a Bangladesh factory last year that killed more than 100 people, reportedly because the access road to the factory was difficult to traverse.
Worker safety is a secondary concern: The group responsible for carrying out safety audits at the Bangladesh garment factories is funded by the companies looking to make money off the clothes produced there, The Huffington Post reported last week. In addition, workers are often pressured by their bosses to lie about conditions there when the auditors come to inspect.
Workers are trapped inside their factories for hours: Workers often are locked inside the building for their entire shift, sometimes longer if they work overtime, according to the U.S. Department of Labor.
Billions of dollars would be required to make the factories safe: It would cost $3 billion over five years to bring the thousands of garment factories in Bangladesh up to safety standards, according to the NYT.
Workers face extreme pressure to show up every day: The day before the deadly collapse, bosses warned workers they would dock their pay if they didn't show up for work, even though the factory was warned there were cracks in the building.
Women often have little choice but to work in the garment factories: Garment industry work is one of the few acceptable jobs for women in the socially conservative country. As a result they make up a large share of garment workers.
BEFORE YOU GO
PHOTO GALLERY
Bangladesh Factory Collapse (UPDATED)