Today is Sigmund Freud's 157th birthday. While we don't expect parades in the good doctor's honor, we can only imagine the symbol-laden floats that would be part of the festivities if such an event existed. Instead, we're paying tribute to Freud's couch, a piece of furniture that has become nearly synonymous with psychoanalysis. As Freud once said: "Psychiatry is the art of teaching people how to stand on their own feet while reclining on couches."
The sofa, which is currently at the Freud Museum in London, was given to Freud in 1890 from his patient, Madame Benvenisti. But while Freud's principles are still sound, the 123-year-old couch has seen better days. According to the Guardian, it has "sagging upholstery" and is in need of restoration. Any volunteers?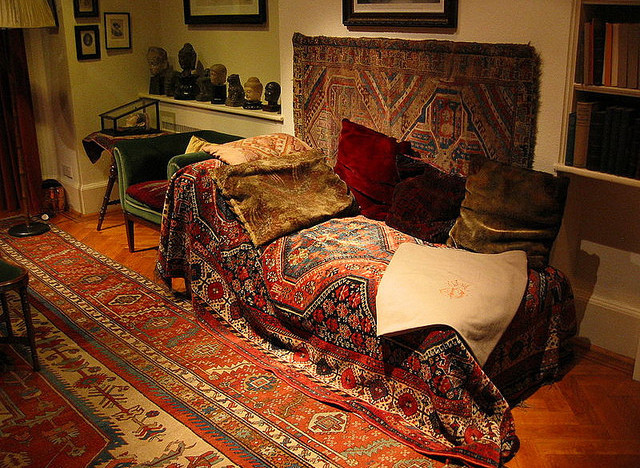 Flickr photo by Robert Huffstutter
We've asked a handful of our favorite psychoanalysts and designers to engage in a little free association about this iconic piece of furniture. Here's what they had to say:
"A cousin to my paternal grandmother, (who referred to him as "cousin Siggy"), Freud understood the evocative power of nomadic tribal carpets -- these were no mere decorations, but allies in his analysis; whose soft wool, natural colors, and primeval graphics not only lulled his patients into a therapeutic state, but connected them to an artistic and cultural tradition older than written history."
Michael Davis
Architect
Principal, Michael Davis Architects + Interiors
"I have a picture of Freud's couch on the wall over my desk and it gives me inspiration and support. Over the years, I have come to think that Freud's contribution to interior decorating has never been fully appreciated. Not only is the couch lush and comfortable but it works particularly well with Mission Style or a Frank Lloyd Wright aesthetic."
Peter B. Dunn, M.D.
Psychoanalyst
Director, The Low-Cost Treatment Center at the New York Psychoanalytic Society & Institute (NYPSI)
"Who thought Freud was ahead of his time as an interior designer? Walk into ABC Carpet and Home today and they have a myriad of sofas, chairs, chaises among other items that are upholstered in rugs instead of fabric. The fashion now is upholstering pieces with overdyed rugs in hot pink, teals, and purples. They are modern versions of Sigmund Freud's sofa."
Tamara Eaton
Designer
Tamara Eaton Design, LLC
"The intricate, rich and complex nature of every human mind."
Maxine Gann, Ph.D.
Psychoanalyst & Clinical Psychologist
Vice President, New York Psychoanalytic Society & Institute (NYPSI)
"I really love burst of exotic colors, patterns and textures of Freud's sofa and chair but it comes as no surprise that all of his theories revolve around sex as he has created a setting that is straight out of a traditional Kama Sutra illustration!"
Thomas Altamirano
Designer/Owner
Studio Alta
"Just like we all might have such a couch in our homes, the language of Freud -- the unconscious, repression, talking cure, slip of the tongue, free association -- has become the common parlance in contemporary society, in fact leading to the idea that we are all Freudians now."
Leon Hoffman, M.D.
Child & Adolescent Psychiatrist
Director, The Pacella Parent Child Center
"The end of carefree naps."
Edward Nersessian, M.D.
Psychoanalyst
Director, The Helix Center
"Dreams sketch a via regia of creative processes and neural networks, bridging symbols to once-in-a-lifetime insights."
Nicole Porter Willcox
Director & Art Psychotherapist
Emerald Sketch, LLC
Freud's couch isn't the only sofa that got us talking. Click through the slideshow below to see the design world's more extreme offerings.
PHOTO GALLERY
Extreme Sofas
Have something to say? Check out HuffPost Home on Twitter, Facebook, Pinterest, Tumblr and Instagram.
**
Do you have a home story idea or tip? Email us at homesubmissions@huffingtonpost.com. (PR pitches sent to this address will be ignored.)