Name: Christian Anthony
Age: 16
Height: 5'5"
Before Weight: 314 pounds
How I Gained It: I have been heavy my entire life. My mother was always working two to three jobs, even as a doctor. My father wasn't around, and my German grandmother raised me in a heavily lower-income neighborhood. Good eating habits were sporadic. The idea of drinking water was replied to with a "What?"
I entered ninth grade at 5'5" and 245 pounds, right after my mother lost her job. High school tuition was four times more expensive than my elementary school. My grandmother was becoming increasingly mentally ill. I entered high school as an honors student, but by the end of the year, I had missed 20 days of school, was truant on plenty more, my average was a full 10 points lower and I'd gotten in trouble for stealing.
But it did not get better. By sophomore year, I was at 310 pounds. I was absent 40 days and I was truant many more times. My average dropped fifteen more points, and I missed a once-in-a-lifetime opportunity to travel abroad to seven countries with the People to People student travel program.
Breaking Point: With my average in the low 70s, sophomore year was the worst. I was told I had the blood-work of a stationary, 45-year-old, diabetic man. That wasn't fun.
How I Lost It: In August 2012, I started my weight loss. I found things I call "secret" foods, things that tasted really good but didn't have tons of calories. I ate leaner meats, low-fat peanut butter, frozen yogurt instead of ice cream, plus Shakeology nutrition shakes. I started walking for an hour every day on the treadmill. The first week was miserable. It got better after that, but it was still hard work!
Since then, my average in school went up to a 94. I went from XXXL shirts to a large, and sometimes a large is a little big on me, depending on the designer. My clinically-demented grandmother is now receiving care. My mom is re-employed and can send me to school more comfortably and is even willing to help me buy a new camera for my film projects. I also started working out with higher-intensity apps and videos.
I am at a stage now where I am no longer on a "diet" and still losing weight to reach my goal. This means that I can maintain my weight loss, even eating out with friends, as long as I control how much I eat. I use the MyFitnessPal app to monitor my calories. I also drink a ton of water and no soda.
After Weight: 205 pounds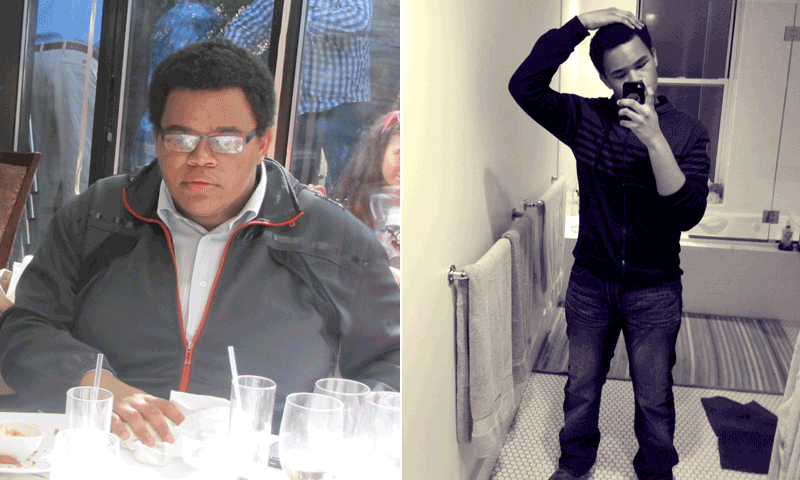 The Huffington Post publishes photographs as they are submitted to us by our readers.
Check out more of our inspiring weight loss stories below:
PHOTO GALLERY
Weight Loss Success Stories