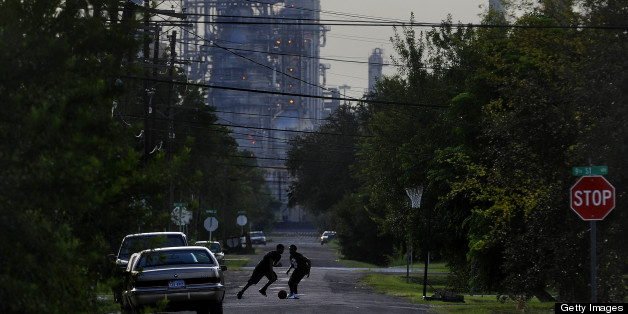 The stacks stand some 60 yards tall, yet the "heavy smoke and soot" they spew still fills the streets and playgrounds of Port Arthur, Texas, a local resident and activist recently warned.
"You can't see through it," said Hilton Kelley, who speaks out against the plumes of smoke that cloak his community whenever a malfunction forces a local oil refinery to burn off excess gas. "And we know for a fact that it's not healthy."
This so-called flaring is just one way Kelley said the low-income, predominantly African-American city is disproportionately burdened by pollution, and why it may face even more toxic trouble should Keystone XL begin piping in heavy crude oil from Alberta, Canada.
"We don't need an extra dose," he said.
Flaring also happens to be one of the ways that oil refinery emissions, such as cancer-causing benzene and other ozone-forming volatile organic compounds, escape detection, and therefore regulation, according to a lawsuit filed against the U.S. Environmental Protection Agency last Wednesday.
Kelley's non-profit environmental justice group, Community In-Power and Development Association, is a plaintiff in the case.
"The underreporting of emissions may expose [Port Arthur residents] to pollutants at levels that are higher than the law allows and in concentrations deleterious to human health," the complaint states.
"We live on the fence line in fear of possible explosions. We smell sulfur and benzene and various other volatile organic compounds every day," Kelley told The Huffington Post. "One of every five households here has someone who needs a nebulizer."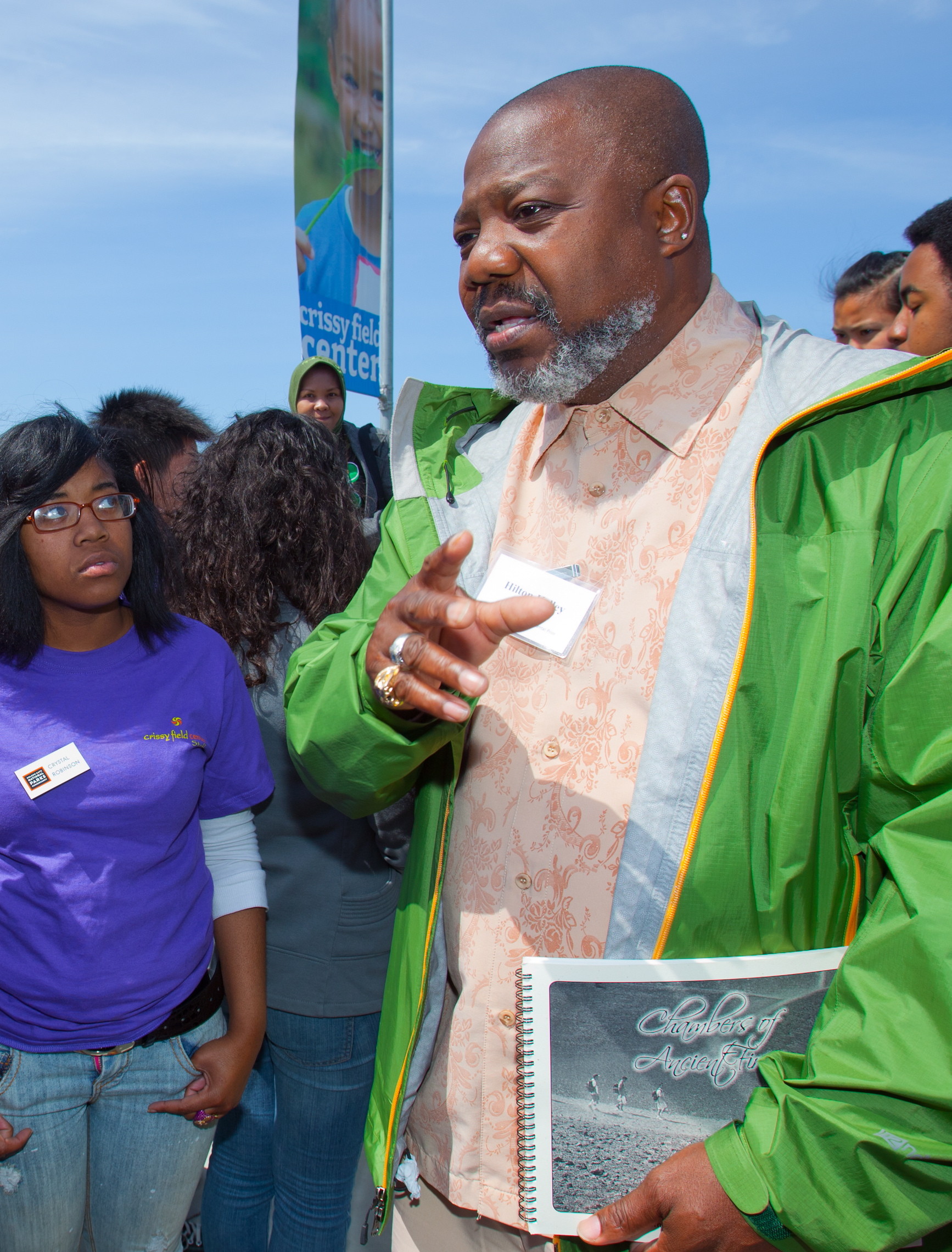 Hilton Kelley speaks with kids in Port Arthur about the importance of protecting the environment. (Goldman Environmental Prize 2011)
Kelley recalled growing up in Port Arthur, "smelling those smells," and said he suffered ill effects as a result, including constant headaches and a nagging cough. He returned 13 years ago, he said, to "weigh in on the pollution problems."
"Things have improved some," Kelley said. "But it seems like we're going to be taking a step back with this tar sands."
Alberta's oil sands, generally known as tar sands to opponents of Keystone XL, contain a crude that is thicker, heavier and harder to refine than the conventional variety. But as the world's stocks of accessible, lighter crude dwindle, the oil industry is expanding development of this bottom-of-the-barrel material -- a process that poses its own health concerns.
A study from the U.S. Geological Survey compared heavier oil to "the residuum from the refining of light oil," and noted "significant contents of nitrogen, oxygen and sulfur compounds and heavy-metal contaminants."
Wherever this unconventional variety is refined, Kelley and other advocates worry, local residents will endure increased day-to-day emissions, emergency flaring, toxic byproducts such as petroleum coke, and risks of explosions like the one that rocked Port Arthur's neighbor, Beaumont, Texas, in April, killing one worker. Some evidence suggests that last year's major fire at a Chevron refinery in Richmond, Calif., was caused by corrosion from the processing of increasingly sulfur-heavy crude.
But Bill Day, a spokesman for the energy corporation Valero, argued that emissions from the company's Port Arthur refinery will not change even if President Barack Obama gives Keystone XL the green light this summer. It has always processed heavy crude -- shipped in from foreign countries such as Venezuela -- and would not undergo any "change in operations, capacity or throughput," he said.
While environmental groups have refuted such claims, other industry representatives argue that heavier crudes pose little added concern.
"America's refineries are state of the art and the cleanest in the world. Each year, refineries invest billions of dollars to make cleaner fuels, enhance operational efficiency, and increase capacity, while meeting more stringent air quality standards," Carlton Carroll, a spokesman for the American Petroleum Institute, told HuffPost in an email.
Carroll pointed to a study published in November that highlighted a drop in toxic emissions from refineries over the last 20 years, despite the processing of heavier and heavier crude oils. The research was paid for by Chevron.
Neil Carman, a former refinery inspector for the state of Texas who now works for the nonprofit Greenpeace, suggested that the industry-sponsored study -- much like EPA's record-keeping -- grossly underestimates emissions.
"These numbers are not based on any kind of real measurements, but rather fuzzy math estimates," he said, recalling a flyover of the Gulf Coast by scientists a decade ago that recorded emissions of volatile organic compounds at 6 to 12 times the amounts reported by companies. The expedition resulted in some of those on board vomiting, he said.
Emissions from flaring, storage tanks and water treatment systems have measured as much as 132 times above estimated levels, according to the lawsuit filed last week. An EPA spokeswoman told HuffPost that the agency is reviewing the suit.
Meanwhile, levels of sulfur dioxide, a pollutant notorious for its rotten egg smell, tend to be more accurately reported, yet are still dangerously high in Port Arthur, according to Carman.
"It's a horrible, rotten mess," he said.
In addition to multiple oil refineries, Port Arthur is home to chemical plants, an incinerator and Oxbow Calcinide, a Koch brother-owned facility that processes petroleum coke. A spill of the coal-like oil refinery byproduct was reported in Port Arthur's Sabine River in September.
Of course, Port Arthur isn't the only destination of Canadian oil sands. HuffPost previously reported on a low-income Houston neighborhood that would be at another receiving end of the Keystone XL. Other pipelines are already pushing the energy source to communities around the country -- many of which are also poor, largely minority populations.
Rep. Rashida Tlaib (D-Mich.) highlighted the growing problems in a Detroit neighborhood -- specifically zip code 48217 --- that she called the "most polluted zip code in Michigan." A $2.2 billion expansion of Detroit's Marathon Oil refinery, completed last October, has allowed the facility to process more heavy crude oil from Alberta.
"The odor is so strong -- stronger than it ever has been," Tlaib said, adding that many residents in the area have been complaining to her of increased sore throats and nose bleeds.
She said the refinery's emissions have increased since it began processing more oil sands crude, although the Michigan Department of Environmental Quality told HuffPost that it won't have any figures until next March.
The community's nerves are also on edge as a result of an April explosion at the neighboring refinery and growing piles of petroleum coke on the banks of the Detroit River.
"We don't have any indication at this point that dust from pet coke is any worse than dust from other aggregates," said Jeff Korniski of the Michigan Department of Environmental Quality, referring to the agency's recent review of the current science on petroleum coke. "We'd consider pet coke and coal dust to be fairly similar."
But Tlaib disagrees, saying she's "not very convinced that [petroleum coke] is not an extreme harm to our public health," noting the sparse research on the material to date. Health risks associated with coal dust include emphysema and chronic bronchitis.
Keystone XL would also have more profound effects on the climate than previously thought, due in large part to the oft-overlooked emissions of petroleum coke, according to a study published in January by the advocacy group Oil Change International.
Climate change, explained Janice Nolen of the American Lung Association, can exacerbate air quality problems. Emissions from refineries, "in combination with the right amount of sunlight and heat," creates yet more toxic ozone pollution, Nolen said.
The lung association, in its "State of the Air" report released in April, gave Port Arthur and Tlaib's Detroit district an "F" grade for ozone pollution.
"Regardless of whether that pipeline comes in," Nolen said, "they could use some cleaner air."
While Kelley maintains that living a "stone's throw" from refineries raises the risk of health problems -- and a study from the University of Texas Medical Branch supports his argument -- he emphasized that he's never advocated closing down the community's refineries.
"Some cancers you can remove, some you can't because if you remove the cancer you kill the patient. If you take away the refineries, this community would collapse," he said.
"That being said," he added, "we still should not have to sacrifice lives and the health of kids just so that this town can survive."
Part of a series on people living along the proposed path of Keystone XL.