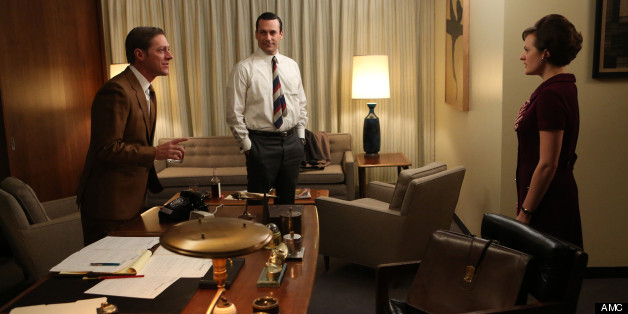 Note: Do not read on if you have not yet seen Season 6, Episode 6 of AMC's "Mad Men," titled "For Immediate Release."
Sunday night's awesome episode of "Mad Men" culminated with an unlikely merger between Peggy Olson's (Elisabeth Moss) past and current employers: Sterling Cooper Draper Pryce and Cutler Gleason & Chaough. With both agencies reeling from losses of accounts and personnel, Don Draper (Jon Hamm) and Ted Chaough (Kevin Rahm) hatched a scheme to combine their powers and came away with the Chevy account.
Peggy, of course, was given the assignment of coming up with the new superagency's name -- and drafting a press release to announce the merger. Don told her to make it sound like "somewhere you'd want to work," but viewers will have to wait until next week to hear what she came up with.
Until then, we thought it would be fun to get some guessing going. What will the new "Mad Men" agency be called? Let's experiment with some different ways to meld Sterling Cooper Draper Pryce and Cutler Gleason & Chaough together.
Option 1: Just ... Draper
You know that's what Don's picturing.
Option 2: Sterling Cooper Draper Cutler & Chaough
The most obvious choice, but it doesn't really make a statement.
Option 3: Sterling Cooper Cutler Draper Chaough Campbell Holloway & Olson
The ladies (and Pete) finally get their names on the door, but it's a little long.
Option 4: Cutler Cooper Sterling Draper Chaough Campbell Crane Holloway & Olson
Harry threatens to quit unless he gets his name on the door.
Option 5: Draper Chaough Sterling Cooper Cutler & Olson
Just the originals, plus Peggy because she's awesome (and coming up with the name).
Option 6: Draper & Chaough
The stars of each agency.
Option 7: PUPPIES!
Don really loves puppies. Who doesn't?
Option 8: Excelsior
Or some other powerful-sounding word that will render this exercise completely irrelevant.
Leave your predictions for the new "Mad Men" agency name in the comments.
"Mad Men" airs Sundays at 10 p.m. ET on AMC.

PHOTO GALLERY
"Mad Men" Season 6 and 7
BEFORE YOU GO