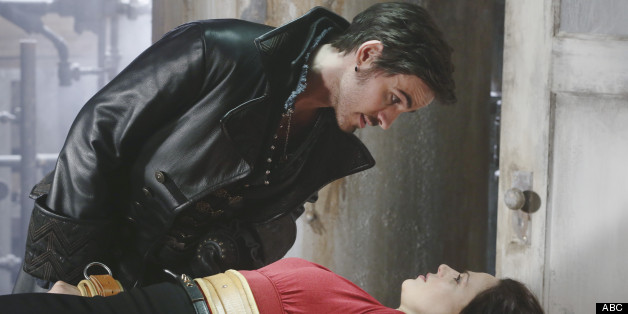 When the "Once Upon a Time" Season 2 finale airs on May 12, we'll be treated to a "very Hook-centric" hour in terms of flashbacks, which also provides Bae with "more background as a character," according to the show's creators.
Now, ABC has released the episode summary for the finale, titled "And Straight On 'Til Morning," as a direct continuation of last night's "Second Star to the Right," which gave us an ominous glimpse at "Once's" version of Neverland. Here's what fans can expect:
"And Straight On 'Til Morning" – The inhabitants of Storybrooke brace themselves for the end when Greg and Tamara detonate the trigger Regina had placed within the curse, with the annihilation of the town and its residents imminent; and Mr. Gold mourns the loss of his son, Bae/Neal. Meanwhile, back in Neverland of the past, Hook discovers his connection to a young Bae after he rescues him from the sea and soon realizes that the Lost Boys are in hot pursuit of the boy.
"Second Star to the Right" presented a potentially dark version of the classic Peter Pan story, with the Boy Who Never Grew Up remaining off-screen while his yellow-eyed shadow kidnapped children and prevented them from leaving Neverland when they started missing their parents. Could Hook be the hero in this version of Neverland?
Watch an extended preview of Sunday's finale below:
Do you think Hook was the villain or a hero in Neverland? Share your predictions for the finale below!
"Once Upon a Time" airs Sundays at 8 p.m. ET on ABC.
PHOTO GALLERY
Once Upon a Time
BEFORE YOU GO