Last month suspicion was cast upon the widely celebrated story of the "flea market Renoir" when the Washington Post reported on the identity of the finder. Now another source has reportedly come forward, revealing details that continue to unravel the possibly too-perfect tale of the flea market find of the century.
The fortuitous thrift shopper, who for months went by the pseudonym "Renoir Girl," was later revealed to be Marcia 'Martha' Fuqua, a gym teacher in Virginia. According to her story, Fuqua unknowingly purchased the piece from a West Virginia flea market because she saw an intriguing box with a Paul Bunyan doll and plastic cow included with the painting. "I'd never seen a Paul Bunyan doll before," she told The Huffington Post in a phone conversation last September. In April, days before the painting was slated to sell for at least $75,000, the painting was revealed to have been stolen over 60 years ago from the Baltimore Museum.
The FBI is currently investigating the past whereabouts of Pierre-Auguste Renoir's "On the Shore of the Seine." Yet the Washington Post has been doing some investigating of its own, recently receiving intriguing details from Robert Musser, an ex-boyfriend who stayed with Fuqua in the 1980s. Although Fuqua reportedly bought the gold-framed painting for $7 at a West Virginia flea market, Musser claims to have seen the painting hanging in Fuqua's home ages ago. "She said it came from a museum in Baltimore," he told the Washington Post. "She said it was a real Renoir... She never told me how she acquired it."
For now the Renoir painting will remain in the FBI's possession, and according to the Associated Press a federal judge in Alexandria will determine its rightful owner.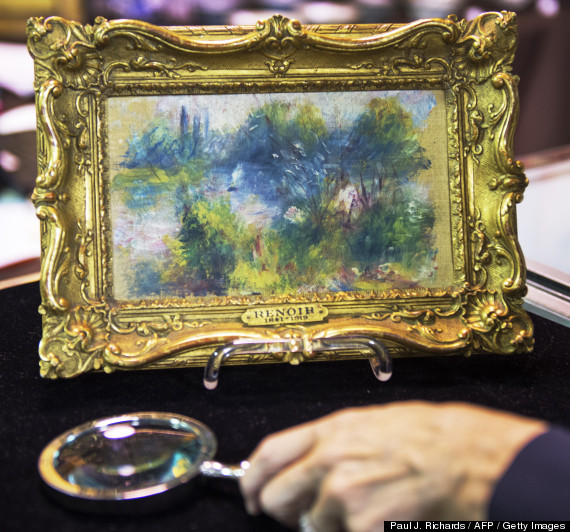 An art shopper looks at a 5.5 inch by 6.6 inch (14 centimeter by 23 centimeter) painting by French Impressionist master Pierre-Auguste Renoir September 25, 2012 in Alexandria, Virginia. The canvas which shows a scene along the Seine River titled "Paysage Bords de Seine" was scheduled to be auctioned September 29, 2012 at the Potomack Company, in Alexandria, Virginia. The Potomack Company announced on September 27, 2012 the withdrawal of the painting from the planned sale after a question was raised by The Baltimore Museum of Art on September 26, about the ownership of the painting.
See more unexpected art finds in the slideshow below and let us know if you are skeptical of Fuqua's story.
PHOTO GALLERY
Unexpected Art Finds
BEFORE YOU GO