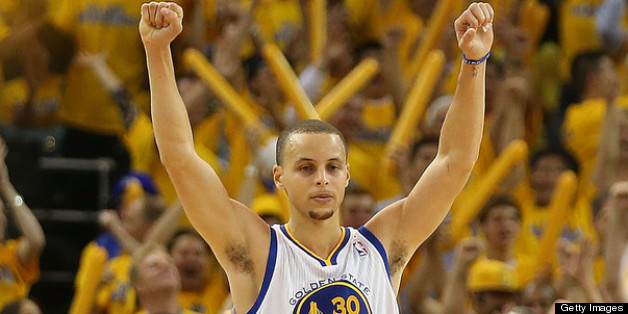 Premier shooters are not supposed to have the yo-yo handle and dynamic passing ability that Stephen Curry possesses. They are not supposed to be able to split double teams with such ease that barely hedging big men suddenly look ridiculous. And they are most definitely not supposed to abuse the NBA's best perimeter defenders, the way Curry did with Denver's Andre Iguodala and Corey Brewer in the first round of the playoffs.
But this is the reality of Curry -- the small-school, churchgoing, 25-year-old point guard for the Golden State Warriors. As teammate and fellow sharpshooter Klay Thompson told The Huffington Post in February, "Anytime you see Steph wide open, it's pretty much automatic."
Curry hails from a family of rare shooting ability, but you already know about his father, Dell, and younger brother, Seth. What separates him -- what really makes him special -- is that unlike stand-still shooters, he can create space to get off the feathery jumper. He's not an elite athlete, and at 6-foot-3, 185 pounds, he has a special ability to finish in traffic with a combination of flip shots, runners and a wondrous left hand. Yet few point guards shoot the ball as proficiently either, specifically from a distance and off the dribble. Cleveland's Kyrie Irving -- a budding star in his own right -- is perhaps the closest, but he predicates getting into the lane to find room for the three. For Curry, his ability to get into the paint starts and ends with the incredible respect defenses give him on the perimeter.
In the Warriors' first-round upset over Denver, Curry attempted a remarkable 8.7 3-pointers per game. The Nuggets knew it was coming, but that hardly mattered. He connected on 44.2 percent of those 3s, while averaging over 24 points and remaining a deft playmaker and facilitator as well, dishing out more than 9 assists -- tops thus far in the playoffs.
To say Curry's offensive game is efficient would be like saying it occasionally drizzles in Seattle. Per Synergy Sports, he ranks in the 80th percentile or better of every single major offensive category minus transition. He shoots an almost impossible 48 percent in spot-up opportunities, better than both Ray Allen and Kevin Durant, and he broke Allen's single-season record for 3-pointers made during this season.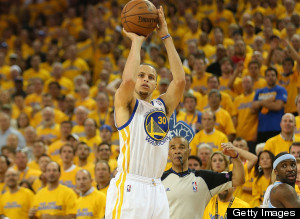 Golden State point guard Stephen Curry made over 44 percent of his 3-point attempts in the Warriors' first round upset over Denver. (Photo by Jed Jacobsohn/Getty Images)
Yet, when we think about the league's best scorers, like Durant, or Kobe, or Carmelo or LeBron, we are talking about a combination of premier athleticism and size. These are guys who quite literally can get into the lane at will. That's not Curry. He shoots fewer than four free throws per game. He doesn't have a post-up game to bail him out on a frigid shooting night. He cannot merely overpower and impose his will. Pointing this fact out isn't a criticism, but rather a nod to Curry's truly unique gifts.
Curry, to be sure, is not without faults. He's still not a high-level defender -- and may very well never be. He's had a cadre of ankle problems throughout his four years as a pro, though the 2011-12 season was the only one where he made fewer than 74 starts. But each summer, it seems as if Curry comes back with an added dimension to his game.
The Warriors have been one of basketball's surprises this season. Make no mistake, Curry is flanked by legitimate NBA talent. Thompson is becoming a solid second option, rookie Harrison Barnes is a plus starter and Andrew Bogut, if he can stay healthy, is only two years removed from leading the league in blocks. But Curry is the team's engine, and he usually has the ball when it matters the most.
He's not afraid of the big moment, and his best attribute may actually be his clutch gene. According to 82games.com, which measures clutch scoring as the "4th quarter or overtime, less than 5 minutes left, neither team ahead by more than 5 points," he ranked 12th in the NBA this season in scoring average. Here is a list of the names he trails: Irving, Bryant, Chris Paul, Durant, James Harden, Jrue Holiday, LeBron James, Carmelo Anthony, Monta Ellis, Jamal Crawford and Russell Westbrook. Of that list, only Crawford, Curry and his former teammate Ellis did not earn All-Star appearances this season. The argument could be made that more than half of those guys are Hall of Famers.
When the Warriors drafted Curry seventh overall in 2009, scouting services questioned things like his true position, "average size, average athleticism," and -- my personal favorite -- "limited upside." The same can be said when he was a scrawny high school senior that neither Duke nor North Carolina recruited out of their own backyards.
In just four seasons, however, Curry has transformed those doubts into irrelevant caveats. He has a sneaky, quick first step and even trickier ability to finish in the paint. He has perfected a quick-triggered release not only as a stand-still shooter, but also as one of the NBA's best all-around playmakers. He understands angles and how to change speeds like a ten-year veteran, and he's only getting better.
As Miami Heat coach Erik Spoelstra told our NBC Sports Radio show: "Steph Curry is probably the most remarkable shooter I've seen off the dribble."
Email me at jordan.schultz@huffingtonpost.com or ask me questions about anything sports-related at @Schultz_Report.
BEFORE YOU GO