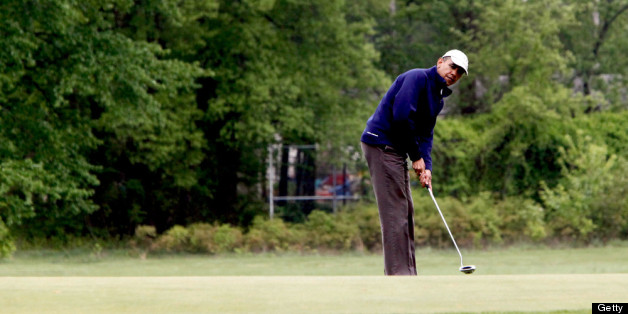 Finally!
The White House press corps was able to have one of its many goals fulfilled on Monday when it was finally allowed to see President Obama play golf.
White House reporters memorably complained when the president barred them from watching him hit the links with Tiger Woods back in February. So they must have been happy when they were allowed not only to watch Obama putting with a bipartisan group of senators, but also to take pictures of him doing it.
From the looks of Monday's pool report, it was not an especially newsy round of golf. Reporters were still restricted to watching the green of one hole of play, after all.
The report did note that Obama "appeared to miss a putt," and that Republican senator Bob Corker was wearing "a gray sweater and khakis," but, sadly, nobody could tell what the men were saying. "Pool was out of earshot of anything said on the green," the report lamented. Still: progress!
BEFORE YOU GO
PHOTO GALLERY
2013 White House Correspondents' Dinner Red Carpet