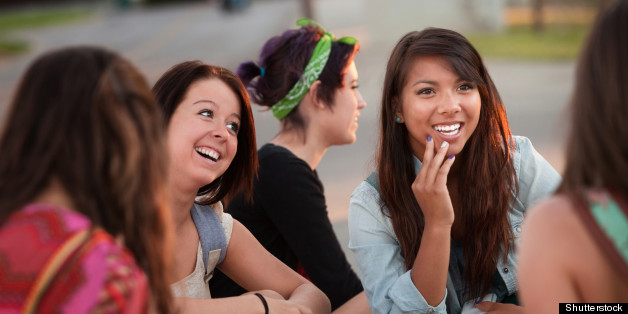 By Kelsey Mulvey
First of all, a big congratulations is in order – the hardest part of your pre-college years are officially over! Now it's time to celebrate with prom and, oh, a million graduation parties. Between your friends' parties and your own, expect to talk to a lot of people about college. While most people will attack you with compliments and hugs, others might ask questions that are a little… uncomfortable. What's an (almost) college student to do? Since you've already mastered answering awkward question during the application process, we're here to offer simple ways to deal with questions after you've made your decision. You can thank us later for saving you from a potentially awkward situation.
Question #1: ""Did you get a scholarship?"
Is it just us or is talking about scholarships really uncomfortable? For every person who scored a scholarship, several well-qualified students didn't. Use this opportunity to set the record straight! If you did get a scholarship - congratulations, by the way – don't be afraid to say so! But don't panic if you didn't. Instead, answer this question with a simple "no" and add that you've worked hard during high school and cannot wait to continue your academic success in college. It's simple, polite, and leaves no room for annoying follow-up questions.
Question #2: "Was that your first choice?" (When it really wasn't.)
Though you may want to say, "No, b*tch, I got deferred then declined from my top choice" (college brings out hostility in even the classiest pre-collegiettes), you simply can't. If the college you're attending is and always was your number one, go ahead and tell them. Okay, but what are you supposed to do if your school didn't have you at hello? Keep it positive! "It wasn't originally my first choice, but I think it's a great school and I'll fit right in," answers the question while keeping the conversation upbeat. For an extra dash of optimism, talk about all the awesome academic opportunities your school has to offer or even a club you're dying to join!
Just don't forget that honesty is the best policy. Bethany Christie, a sophomore at Lafayette College, dreamed of attending Villanova University. After being deferred, waitlisted, and finally accepted to Villanova, Bethany decided against her number one school and went to Lafayette. Instead of a simple "no," she makes sure to tell the whole story.
"I tell them the truth," says Bethany. "Granted, this is probably a lot more detailed of an answer than they bargained for. I feel proud of myself that I was able to make the choice I did and show how I'm successful in the life I was able to choose for myself."
If your college decision has a story, don't be afraid to share it! After all, they're asking you!
Question #3: "That's pretty expensive, how are you paying for that?"
Unless you're going to be an economics major, nobody really likes to talk about money, especially college tuition. If you're comfortable with discussing your money matters, go ahead! Just remember to stress how fortunate you are to go to such an amazing college, regardless of your financial situation. But don't feel pressured to dish about your finances. Call us crazy, but your old third grade teacher (you know, the one who randomly sends your family Christmas cards) doesn't need to know if you're taking out student loans or not. Simply saying that you and your family are working out the details will suffice. Oh, and don't forget to quickly change the subject to the yummy spinach and artichoke dip.
Question #4: "Why are you taking a gap year?"
When a lot of people hear someone's taking a gap year, they instantly think, "Oh poor (insert pre-collegiette's name here), she didn't get into college." It's time to set the record straight! Whatever the situation may be, answer honestly. Don't forget to add a touch of optimism. For example, if the thought of going to school for another four years makes you unbearably anxious, emphasize that you'll be eager and sharp for when you do head off to college. If you're trying to make money to pay for school, don't forget to add that the work experience will look great on your resume. Whatever your reason is, the positive spin will make people admire your decision.
BEFORE YOU GO
PHOTO GALLERY
5 Ways To Deal With A Big Life Change