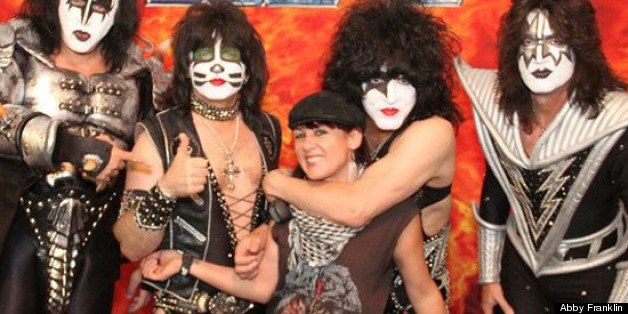 One of the reasons I started my website is that I wanted a place for women to come together and dream. We women need to know that we don't have to hang on to an old dream that has stopped nurturing us -- that there is always time to start a new dream. This week's story is about a woman who became a successful celebrity stylist, jet setting around the world. But when she began thinking about settling down, she knew she wasn't ready to walk away from her love of fashion. Now, this fashionista tours the streets of Nashville, selling the latest styles out of a truck, and she shows no signs of hitting the brakes any time soon. -– Marlo, MarloThomas.com
By Lori Weiss
Abby Franklin thought it was her lucky day when the wardrobe stylist she was shooting a commercial with didn't show up for work.
"The producers looked at me," she recalled, "and said, 'You look like you can shop,' and gave me a handful of cash. They told me what they needed and sent me to the store. I remember thinking, 'This is amazing! People actually do this for a living!'"
Far from her childhood home of Ferriday, Louisiana, Abby was living in Orlando, often working for free, in an effort to get her career off to an exciting start. She worked as a production assistant on a variety of sets and caught the music bug when she was recruiting audiences for the MTV show "Sandblast." So when the opportunity to work backstage at the legendary House of Blues presented itself, she was more than happy to be stocking buses and ironing clothes for the featured bands.
"There was a band there one night," Abby recalled, "that was based in Orlando. I'd been helping them out and they said, 'If we make it big, we're taking you with us.' Being from a tiny town, I never imagined I'd see much of anything. So, when I heard they were going out on the road, I reminded the tour manager of what they had said. They'd never had a wardrobe stylist and I'd never been on the road, but he agreed to give me a chance."
The band was Creed, and they would go on to sell more than 10 million records. And Abby would go on to become a stylist for some of the biggest stars on the music scene. One gig led to the next, and soon she was touring the world with musical acts like Prince, Van Halen, Motley Crue, Madonna and Bon Jovi.
"I remember the first time I traveled to a city where I'd never been, I had to make sure I saw everything, because I didn't know if I'd ever get back there. And suddenly I was going to the Grammys, backstage at all the big television shows, and on our days off, on a safari or taking a private tour of Vatican City."
Despite all the adventures, Abby longed for a place to call home -- a city where she could work when she wasn't touring, build a community of friends and be close to her family in Louisiana. So she moved to Nashville.
"I got the keys to my new condo," she said, "and the next day I was back out on the road. While I was away, my parents drove up and moved some things in, so I'd have a bed to come back to. And when we had two days off, some of the guys from the crew came over and helped me paint. Then we went right back out again."
While it appeared that life on the road might be an obstacle to settling down -- for Abby, it would lead to the man of her dreams and allow her to take her career in a completely new direction. The enterprising stylist was about to trade in the limousines and private planes she'd become accustomed to for a 24-foot truck.
Article continues below slideshow.
PHOTO GALLERY
It Ain't Over: Abby Franklin
"I was in Hawaii with Bon Jovi, and a group of us were spending some free time on the beach. That's when I met Dustin who, as it turned out, lived just a few blocks away from me in Nashville. He ended up taking the bunk underneath mine on the bus. Picture a little boy pulling your pigtails in elementary school and that describes how our relationship started. Three months into the tour, we finally admitted we had feelings for each other."
The couple became inseparable and Abby started thinking more and more about putting down roots.
"So many country artists live in Nashville," Abby said, "but they get their clothes everywhere else. People from Los Angeles were coming in to dress them. And I thought, 'Why don't we have a place for them to shop here?'"
"I started looking for a store, but everywhere I went, the rents were more than I could afford. I didn't know what I was going to do -- until one day I noticed a food truck. I remembered reading about a woman who sold shoes out of a truck. And I'd heard about a few fashion trucks that were bringing in $3,000 a day. I thought this would be great. I'd buy a truck for $10,000 and I'd make it back in a matter of days."
And Abby wasn't the only one who thought the idea was brilliant. She had a friend who sold woman's accessories who couldn't wait to get onboard. The two women envisioned a stylish truck that would park at different locations around Nashville catering to a ready-made audience of men and women who might pop out of their offices, or stop by on their way back from lunch, to pick up a little something to snazz up their outfits.
Back out on the road, Abby spotted a truck on Craigslist. She was traveling through Europe with Lady Antebellum, but when she saw the price, she couldn't let it get away. So she had a friend scoop it up for what appeared to be a bargain -- $5,500. It would be her first lesson in business -- you get what you pay for.
"It was a 1986 Chevy Step-Van," Abby explained, "that used to be a Snap-On Tools truck. As we were taking it in to be wrapped, the lift gate began to fall off. That was the first sign that maybe we should have spent the $10,000. We ended up having to rebuild the motor and replace the brake line."
"I hired a carpenter who built houses. He didn't know what he was getting into. He kept asking my opinion and I was like 'Dude, I don't know how to build a truck!' Between the repairs and the customizing, it ended up costing us $25,000 before we even bought the inventory."
But finally, the truck was ready to hit the road -- all decked out with hardwood floors, custom cases and an area for customers to try on their potential purchases. The partners put out the word on Facebook and Twitter announcing where their new business, "Trunk Nashville," would park each day.
"I wish I could tell you that worked right off the bat!" Abby laughed. "But it wasn't that easy. We parked the truck by a shopping mall, but no one knew who we were or what we were selling. Not one person stopped in the truck all morning. So we had lots of time to go to lunch! And that's when it hit me. There was a 45-minute wait for a table and a lot of customers with nothing to do. So we asked the restaurant if we could park outside."
"People loved it! On our first day there, we were on all the local TV stations. It was good for us and good for the restaurant, because now people had something to do while they waited."
Eventually Abby's partner decided she wanted to spend more time at home with her new baby, so the streetwise entrepreneur got behind the wheel and began driving the business to new heights. She branded the former Snap-On Tools truck as "Nashville's First Fashion Truck" and added inventory that went beyond accessories, ranging from $15 t-shirts and $40 jeans to $200 dresses. And Abby followed the crowds. If there was an event in town, "Trunk Nashville" was bound to pull up and make sure everyone was decked out in style. Soon customers were flagging down the mobile store to find out its next destination.
But with the knowledge that a business's first two years can be the most turbulent, Abby is taking things slow. She and Dustin are back out on the road right now with Bon Jovi, bringing in cash to take their mobile fashion business to the next level, while their loyal employees keep the truck touring.
"I'd like this to be my last full year on the road, but I'll do this as long as I need to, to get the business up and running. Ultimately, I would like to get to the point where I can be in Nashville 10 months out of the year and still have the freedom to say yes when someone asks me to tour London for two months."
And she's got plans for the truck to travel outside Nashville as well. Abby is considering franchising her concept and maybe even taking a smaller version of "Trunk Nashville" on a road trip of its own.
"Right now, when we're home, we're working 15-hour days so things will run smoothly when we're away. But I feel like I'm blazing a trail and I'm determined it's not going to fail."
"You never know where life is going to take you," she said, smiling across the room at Dustin, who is now happily her husband. "You've just got to grasp on to opportunities when you find them. They can lead to some amazing places."
Add Marlo On Facebook:
Follow Marlo on Twitter:
Sign up to receive my email newsletter each week - It will keep you up-to-date on upcoming articles, Mondays with Marlo guests, videos, and more!