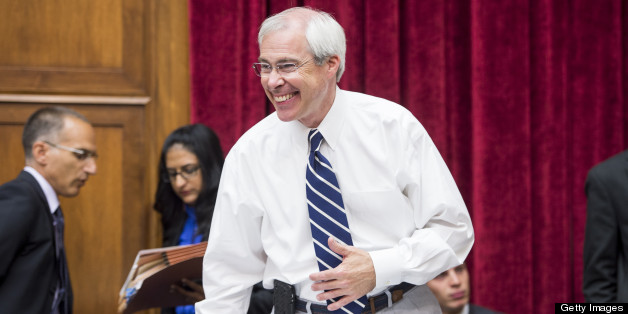 WASHINGTON -- One of Democrats' two top recruits for the Georgia Senate seat of retiring Sen. Saxby Chambliss (R) bowed out of consideration Tuesday, potentially clearing the field for Michelle Nunn, the daughter of former Peach State Sen. Sam Nunn (D).
Democrats told The Huffington Post that Nunn and Rep. John Barrow (D-Ga.) were the two top choices in Georgia, but many Democratic insiders openly favored Barrow as the party standard-bearer because he has a proven track record of winning tough races in the Republican-leaning state.
Barrow's departure leaves Democrats without a strong, known candidate. Republicans were quick to pounce on Barrow's withdrawal as evidence of a Democratic recruiting failure in one of the few states where Democrats think they have a chance to pick up a GOP-held seat in 2014.
"Barrow's decision is the biggest recruiting failure of the 2014 cycle and ensures that Republicans are on offense across the map," said Brad Dayspring, the spokesman for the National Republican Senatorial Committee. "Democrats in Washington threw everything at Barrow, who realized the seat is unwinnable and left the Democratic National Senatorial Committee standing at the altar. Republicans have a strong field of energetic candidates that represent Georgia values and will win in 2014."
While Democrats seemed to hold a preference for Barrow, insiders also made a case for Nunn to HuffPost last week, suggesting that her status as Georgia political royalty, a woman, and an outsider with no legislative history to attack were significant strong points.
A moderate woman, in particular, could offer a compelling counterpoint to the Congressmen on the other side who have taken stridently conservative positions on abortion and even science -- with one, Rep. Paul Broun, describing evolution and the big bang theory as lies from the pit of hell.
Democratic Senatorial Campaign Committee spokseman Matt Canter contended that the looming primary battle among the Republicans, which also include Reps. Jack Kingston and Phil Gingrey, would leave a favorable landscape no matter which candidate the Democrats field.
"The divisive Republican primary is certain to produce a nominee that is too extreme for mainstream Georgians," Canter said in a statement. "We are confident we will have a strong candidate that will excite Democrats and provide independents and moderate Republicans with a strong, reasonable alternative to the extremism from Republicans."
One GOP operative allowed that Nunn, a non-profit executive, might have greater potential than the male lawmaker. The operative noted that Barrow had a poor standing statewide -- but said he was still pleased to see the DSCC fail at getting Barrow to run.
Sabrina Siddiqui contributed reporting
BEFORE YOU GO
PHOTO GALLERY
Distinguishable Members Of Congress