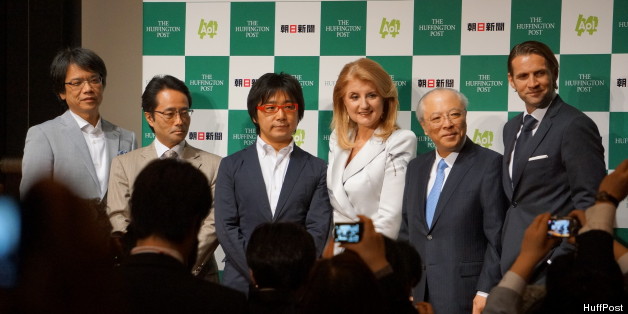 On Tuesday, The Huffington Post launched its sixth international edition, The Huffington Post Japan, in Tokyo. The site, created in partnership with the Asahi Shimbun, a leading newspaper in Japan, is HuffPost's first edition in Asia, and follows sites in Canada, UK, France, Spain and Italy.
In Tokyo for the event was Arianna Huffington and HuffPost CEO Jimmy Maymann, who appeared at a press conference at the Roppongi Hills attended by more than 100 journalists from 67 media organizations in Japan. Joining them were HuffPost Japan Editor in Chief Shigeki Matsuura and executives from the Asahi Shimbun.
Arianna told members of the Japanese press that the Japanese site, like the U.S edition, would act as a platform for people to blog, participate, and "tell their stories." As she wrote in her launch blog post, HuffPost Japan "represents the fulfillment of our goal of inviting ever more voices from around the world to join our growing global conversation."
Following the press conference, Arianna and Matsuura were joined by James Kondo, the managing director for East Asia at Twitter and Shintaro Tabata, an executive officer at LINE Corp., for a panel discussion about the impact of social media on Japanese elections.
VIEW THE SLIDESHOW FOR PHOTOS FROM THE TOKYO LAUNCH EVENT
BEFORE YOU GO
PHOTO GALLERY
Huffington Post Japan Launch