LEGO has seen its fair share of attention over perceived gender stereotyping -- and typically, the conversations have originated with moms and centered on the company's portrayal of girls. As ABC News reports though, the most recent public complaint comes from a dad and his missive takes LEGO to task for possibly a much more offensive product than we've seen before.
Father of two Josh Stearns, who is Free Press's Journalism and Public Media Campaign Director writes on this Tumblr that he "grew up playing with LEGOs and [has] a huge affinity towards the diminutive building blocks."
But when he started teaching his 4-year-old son to love LEGOs too, Stearns came across a set of construction-themed stickers that gave him great pause. They featured a minifigure that seemed to promote street harassment with the offensive tagline "Hey Babe!" (see image below). On April 25, Stearns posted a public complaint about the sticker -- and his concerns were echoed around the web.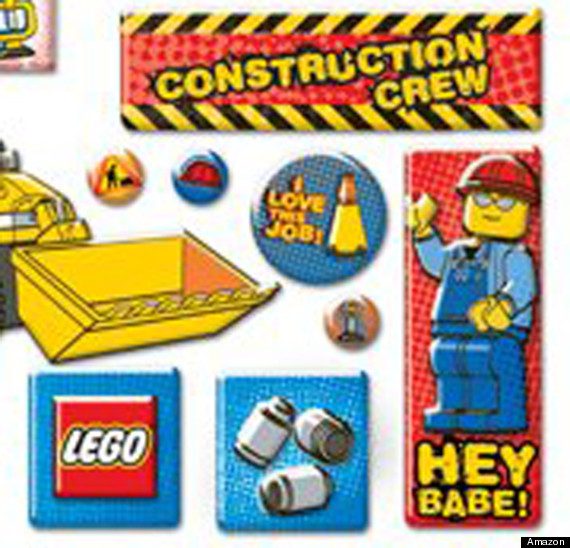 The story doesn't end there. Stearns followed up recently by posting two emails he received from LEGO representatives in response to his complaint.
He says the company's first response was from Charlotte Simonsen, Head of Corporate Communications, and calls it "tone-deaf" and "problematic." The letter is a more or less impersonal email, with one line that bothers Dad in particular: "To communicate the LEGO experience to children we typically use humor and we are sorry that you were unhappy with the way a minifigure was portrayed here."
That first email went on to clarify that the stickers, made by licensee Creative Imagination, were discontinued in 2010. (The sticker set is still listed on Amazon, but not available for purchase.)
Stearns is more appreciative of a second email, from Andrea Ryder, leader of the company's Outbound Licensing Department. In the letter, as Stearns posted it on Tumblr, she tells the dad she is "truly sorry that [he] had a negative experience with one of our products," and explains: "[T]he product is no longer available and we would not approve such a product again" (a statement Stearns considers "a real win").
A number of bloggers have joined Stearns in his incredulity, some of whom even expanded on his objections. For instance, Slate's Amanda Hess wrote:
LEGO's depiction of construction workers definitely has a gender problem -- in addition to the cat-calling, the set reinforces the idea that the field is exclusively for "men at work!" LEGO's bizarre occupational sticker set is also classist. The old stereotype of the construction worker lounging around and whistling at women obscures the fact that sexual harassment is a problem in all fields.
His original complaint also gave rise to a Change.org petition, signed by nearly 1,020 people but now closed, which read in part: "Hundreds of millions of women experience street harassment every year and this shows a blatant disregard for those that are subject to it."
And LEGO's clarification that the stickers are no longer being produced isn't good enough for everyone; in The Christian Science Monitor, Lisa Suhay argues:
[It] doesn't let LEGO off the marketing hook. Instead, it is a teachable moment for any manufacturer hoping to continue to sell to parents: Bad decisions can haunt a product. The stickers may have been discontinued several years ago, but the product bearing them is still on shelves.
While the majority of online commentary was in support of Stearns, he did endure backlash from critics on his personal Facebook page. "A number of men took to my ... page to defend the sticker asking if 'Hey Babe' really amounted to harassment and warning the 'well-intentioned anti-harassment camp' that their outrage could alienate 'non-extreme feminists,'" Stearns writes.
Meanwhile, Bitch Magazine's Sarah Mirk suggests we look to the positive example of this proposal for LEGO minifigures showing women as astronauts, scientists, judges, paleontologists, and -- yes -- construction workers. Cat-calls obviously not included.
The Huffington Post reached out to LEGO for comment on this story, but had not heard back by the time of publication.
BEFORE YOU GO
PHOTO GALLERY
Brands That Have Been Updated To Be More "Girly"