When the flare of the Northern Lights brighten the night sky in Michigan's Upper Peninsula, photographer Shawn Malone is there to document it.
Malone captured stunning footage of last month's flares. But her latest project, "North Country Dreamland," spans an entire year and an entire peninsula of majestic nighttime vistas. The six-minute timelapse video, composed of 33 scenes shot around Northern Michigan last year, is a testament to the beauty of the state's remote northern wilds.
"I wanted to bring an awareness to protecting the night sky through smart use of outdoor lighting. Many places never see this dark sky anymore because of the tremendous light pollution that exists," Malone told The Huffington Post via email. "We are so fortunate up here to have relatively dark skies, although unfortunately you can see light pollution in one of the most remote of scenes that I had to take a float plane to get to, Isle Royale."
Malone and her husband, Brian, both photographers who own the Lake Superior Photo website and gallery, "bounced around the Midwest" for years before leaving Chicago. The two sought a "remote northwoods lifestyle" coupled with the conveniences of a small city and found Marquette. At roughly 21,000 people, it's the UP's largest city and home to Northern Michigan University.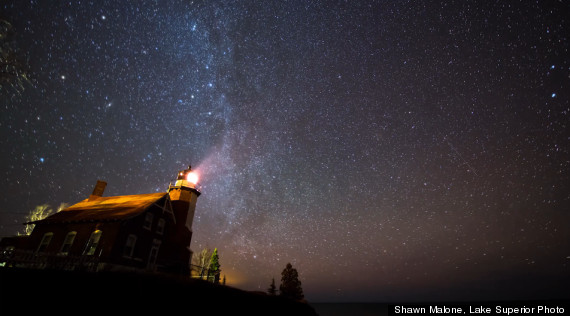 "In five minutes you can be biking world class trails or walking the incredibly beautiful beaches of Lake Superior," said Malone.
For "North Country Dreamland," Malone sought out the most remote dark sky locations she could find around Marquette, so that she could film the scenes without any flashlights, headlights or people disturbing the scenes. The locations read off like a ready-made travel itinerary of Upper Michigan's natural splendor: Isle Royale National Park, Pictured Rocks National Lakeshore, Headlands International Dark Sky Park, spots on the Upper Peninsula's stretch of the North Country Trail, Hiawatha National Forest and little-populated boroughs like Copper Harbor and Eagle Harbor, located in the Keweenaw Peninsula.
Malone says she shot 10,000 photo frames to create enough still imagery to make the video. "Each scene of a few seconds took up to three hours to photograph as the lapsed scenes are each composed of hundreds of stills," she said.
Some of her favorite moments are of the aurora borealis, or Northern Lights, which lit up the unpopulated peninsula in April 2012.
"Every Northern Lights experience is unique and incredibly amazing," she said. "Sometimes the displays can be so bright the light reflects off the lake and really lights everything up -- electrifying!"
She says she made the video to build awareness of "the big lake," as she calls Lake Superior, and her home in the wilds of Michigan's untamed peninsula. It's an area so remote that she may only see two or three people if she leaves her house. Though Malone appreciates the solitude, she's thankful electronic communication exists for her to be able to make a living.
Even if it didn't, it's doubtful the Malones would ever leave Marquette.
The tourism campaign for the state is Pure Michigan, and that's what is here," she said. "You've got the beauty of the biggest cleanest great lake, Lake Superior, the abundance state and national parks and shorelines.. hundreds of waterfalls, lighthouses, world class mountain biking trails, friendly people and quaint cities."
"I am here to stay."
Follow the Malones on Facebook at Lake Superior Photo.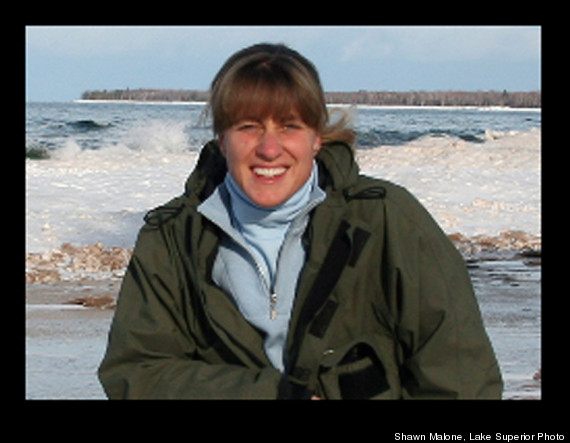 BEFORE YOU GO
PHOTO GALLERY
Northern Lights