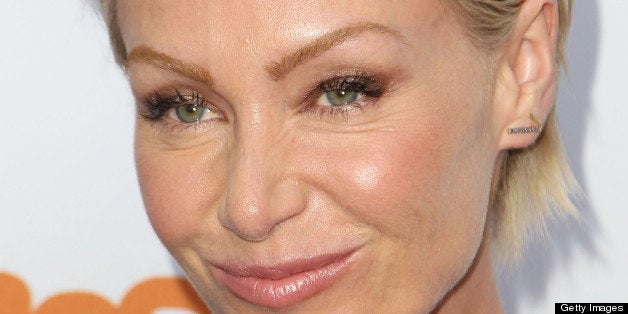 "Arrested Development" star Portia De Rossi recently opened up to LA Confidential for their May/June 2013 cover story.
As She Wired points out, during the interview the actress dished on a recent trip back to her homeland, Australia with her wife Ellen DeGeneres, being a famous lesbian couple and the significance of a wedding ceremony.
De Rossi revealed that she and DeGeneres were together for four years before the couple wedded, but that their actual wedding ceremony played a significant part in their lives.
"We were together for four solid years before we got married, but the minute we said 'I do,' the minute we stood up in front of our parents and our friends and committed to each other, our relationship changed," she said. "I don't think people understand how important that little ceremony is and what it actually does to people. To my mother, instead of thinking of our relationship as a little bit less than my brother and his wife's relationship in some way, it made them instantly equal in her mind, and Ellen became her daughter rather than someone that I was with or dating."
The 40-year-old then chimed in on the ongoing global debate over marriage equality.
"Gay marriage is the idea whose time has come ... If there weren't such a strong debate, it wouldn't actually ever get done," De Rossi explained. "So I welcome the strong debate. I welcome people really hashing it out and thinking about it and talking about it, because it really is the last civil rights issue that we're going to have to deal with in our country."
The actress also recently covered the May issue of Out Magazine, where DeGeneres also made number two on the publication's "Power 50 List." The couple tied the knot in 2008 in their Los Angeles home.
BEFORE YOU GO
PHOTO GALLERY
Celebrities Who Have Come Out As LGBT