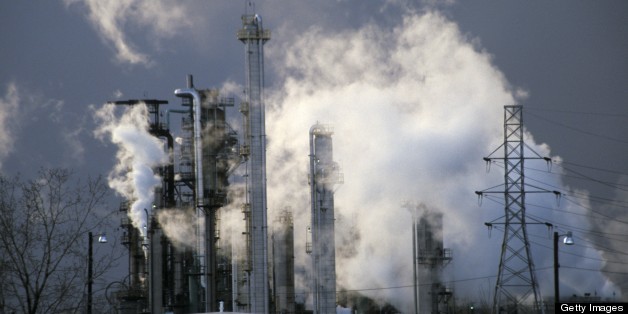 A Michigan state agency has apparently had some doubts about honoring the safety record of a Detroit oil refinery -- one that recently experienced an explosion and fire that led to the partial evacuation of a nearby city.
The Michigan Occupational Safety and Health Administration Wednesday canceled an event Wednesday that would have presented the Marathon Oil company with a CET Platinum award for safety, while the company investigates the fire incident. Protests had been planned for the ceremony.
"This is not a joke! The State of Michigan is giving Marathon Petroleum Company an award for 'Outstanding Safety and Health Record,'" State Rep. Rashida Tlaib (D-Detroit) said in a Facebook post prior to the cancellation. "Marathon has had two fires and a number of MDEQ violations in the last two years, so residents are outraged that they are getting an award for safety and health."
On April 27, a fire broke out in one of the small tanks at the Southwest Detroit refinery, releasing clouds of thick black smoke into the air. Following the incident, 3,000 residents in the nearby community of Melvindale, Mich. were ordered to evacuate their homes, according to the Detroit Free Press.
Detroit residents rallied on Friday to question why an evacuation wasn't held in their city and to press for more information about a specific plan.
The plant was cited with a nuisance violation by the Michigan Department for Environmental Quality after reports of an overpowering odor last year.
State Rep. Rashida Talib told the Free Press she believes officials didn't even know about the fire when they made an announcement about the award earlier this week. The company is currently investigating the cause of the incident. Marathon has previously been honored by MIOSHA with a Rising Star award for workplace health and safety.
BEFORE YOU GO
PHOTO GALLERY
Keystone XL Protests