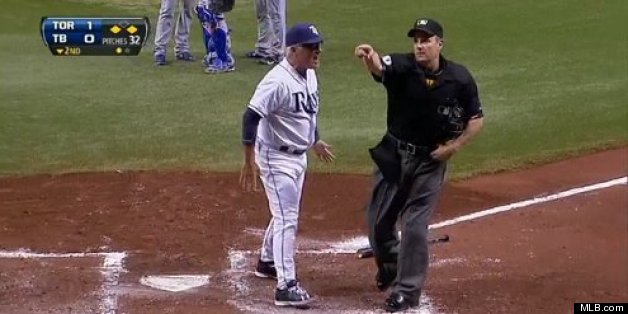 Tampa Bay Rays manager Joe Maddon and umpire Marty Foster clashed again on Tuesday night after Sean Rodriguez was called out at home on a safety squeeze attempt.
Jose Molina laid a bunt down the first base line in the bottom of the second inning with Rodriguez on third. The Rays third baseman tried to score as Toronto's Edwin Encarnacion scooped up the ball and tossed it to catcher J.P. Arencibia. Rodriguez avoided the tag on the slide and appeared to barely graze home plate with his fingers. But the umpire ruled that he missed the plate and Arencibia tagged Rodriguez after he got back to his feet for the first out of the inning.
Maddon immediately ran out of the dug out and 30 seconds later, Foster ejected him from the game.
Click HERE to watch the play and Maddon's ejection.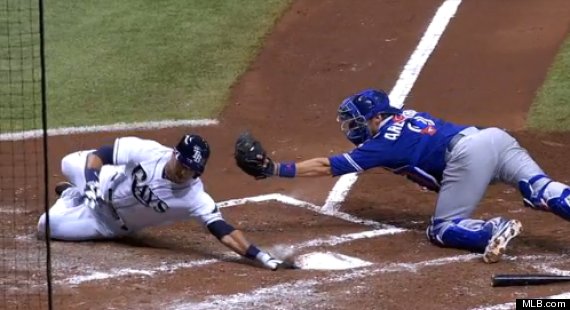 "I just thought that it was an inappropriate call at the time and I didn't like the explanation, either," Maddon said, via Bill Chastain of MLB.com. "So all of that stuff, I felt as though I needed to make a point. We've had several moments this past month that have gone against us and I'm really not happy about that. So I made my point, I got out of there, I thought it was an inappropriate call."
The Rays still managed to score four runs in the inning, but the Blue Jays rallied late to win 6-4.
"He said I hovered over the plate," Rodriguez told Joe Smith of the Tampa Bay Times. "My argument was simple, how would I hit dirt in front and behind the plate? It's tough."
Earlier in the season, Foster called Tampa Bay's Ben Zobrist out on strikes to end the game against Texas on a pitch that was clearly low and away. After hearing Maddon's arguments and seeing the replay, Foster admitted that he got the call wrong.

Did he get the call wrong this time?
BEFORE YOU GO
PHOTO GALLERY
Best 2013 Sports Photos