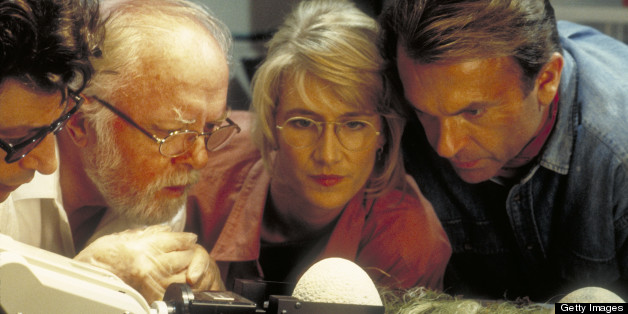 Please continue to hold on to your butts. Universal has announced that "Jurassic Park 4" won't come out on June 13, 2014.
"In coordination with filmmakers, Universal has decided to release 'Jurassic Park 4' at a later date giving the studio and filmmakers adequate time to bring audiences the best possible version of the fourth installment in Universal's beloved franchise," Universal said in a statement. "We could not be more excited about the vision that Colin Trevorrow has created for this film, and we look forward to watching as he and the producers create another great chapter in this franchise's storied history."
Rumors of trouble with "Jurassic Park 4" (or "Jurassic Park IV," as some sites have taken to calling it) sprouted up online on Tuesday. Ain't It Cool News noted that "Jurassic Park" concept artist Dean Sherriff tweeted that the film was put "on hold." Sherriff's tweet was then deleted (a screenshot can be found at Ain't It Cool), but his info was corroborated by a "Jurassic Park 4" fan site:
Simply put, the studio doesn't necessarily see eye-to-eye with some of those involved in the film's development and this has lead to some conflict.

According to our source, Jurassic Park 4 is still in production, just on a temporary hiatus while there is a "restructuring of the guard", if you will.
Colin Trevorrow was hired to direct "Jurassic Park 4" back in March. As the Universal release noted, he's still attached to direct.
PHOTO GALLERY
'Jurassic Park' Art
BEFORE YOU GO