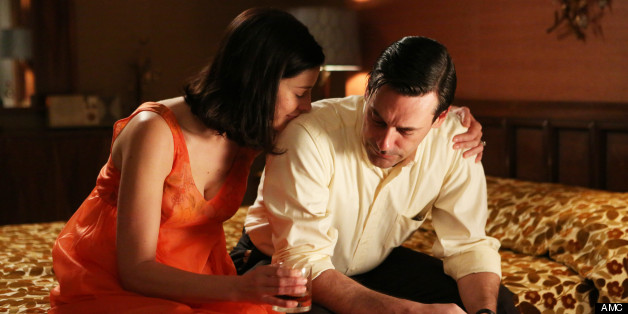 Sunday night's "For Immediate Release" episode of "Mad Men" was an eventful, consequential hour for the members of Sterling Cooper Draper Pryce (and Cutler Gleason & Chaough). But based on the episode's timeline -- Peggy dated her press release about the merger on May 17, 1968 -- another tragic historical event is likely to dampen the post-merger euphoria: the assassination of Robert F. Kennedy.
Kennedy, who was gaining momentum in his campaign for the the Democratic presidential nomination, was gunned down shortly after midnight on Wednesday, June 5, 1968 in the kitchen of the Ambassador Hotel in Los Angeles, California by Sirhan Sirhan. It was less than five years after his brother, President John F. Kennedy, was assassinated in Dallas, Texas.
"Mad Men" has previously constructed episodes against the backdrop of political assassinations, most recently in the Dr. Martin Luther King Jr.-focused episode "The Flood" in April.
Kennedy's murder, the third in a string of devastating political assassinations that thrust the country into a state of turmoil, could be particularly depressing to Peggy, who just noted her affection for RFK in a conversation with her boyfriend Abe in "For Immediate Release."
If "The Flood" is any indication, "Mad Men" won't shy away from showing its characters struggling to deal with the national trauma. Tears, hugs, office political arguments and heavy drinking are likely.
Kennedy's funeral also presents a Madison Avenue connection that "Mad Men" could very well explore. On June 8, his body was laid in rest at St. Patrick's Cathedral in New York City. The church is located at 51st and Madison Avenue, just blocks away from the Sterling Cooper offices.
"Mad Men" airs Sunday nights at 10 p.m. ET on AMC.

PHOTO GALLERY
How 'Mad Men' Could Cover The Late '60s
BEFORE YOU GO