The Obamas might be Bears fans, but it sure looks like the first lady has a thing for 49ers quarterback Colin Kaepernick.
The star quarterback posted a picture of Michelle Obama "Kaepernicking" (his signature move) on his Instagram account Tuesday, accompanied by the words, "I got the opportunity to meet one of the greatest women in the world, the first lady @first_Obama and even got her #Kaepernicking."
The meet-up wasn't unusual, as Kaepernick has teamed up with the first lady in the past to promote "Let's Move Active Schools," an initiative to make physical education a priority in schools, the Courier-Journal reports.
PHOTO of Michella Obama Kaepernicking [via Instagram]: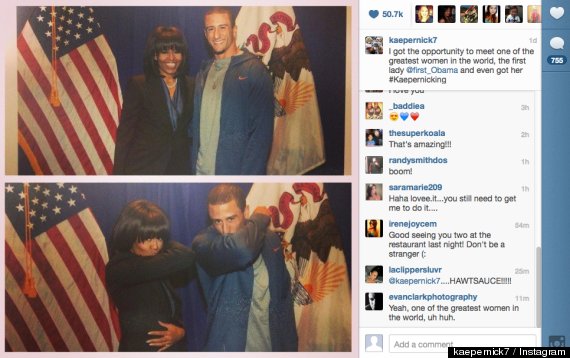 BEFORE YOU GO