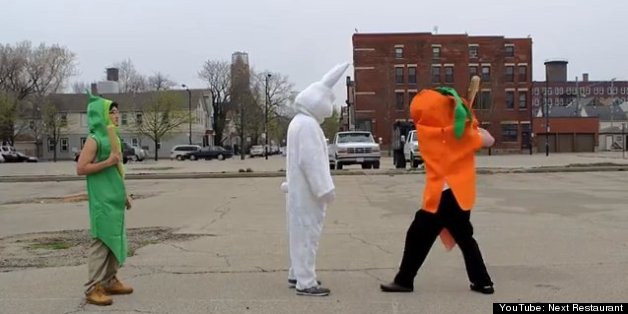 Before Next restaurant launches a new menu, which happens every four months, a video usually previews the offerings to come. The last edition, The Hunt, offered a creative interpretation of a wild game menu. Perhaps serving as a break from all that meat, the newest menu, which launches May 8, is going vegan.
The "vegan" video preview is a lot of fun and a little cheeky -- it plays up the the stereotype of the "militant vegan" -- and the clip includes everything from bright red vegan-inspired graffiti to a man in a rabbit suit getting beat up by a man dressed up as a carrot. Oh, and Grant Achatz, Nick Kokonas and few others somehow end up in jail.
If you want to join the no-meat fun, May tickets are already sold out. There's still hope for later in the summer, though.
Check out cameos from several other Chicago restaurants in the video as well:
BEFORE YOU GO
PHOTO GALLERY
Celebrity Vegetarians