A new documentary airing on PBS explores the rise of white-tailed deer in the U.S. and how the animal has become a ubiquitous sight in the suburbs.
"The Private Life of Deer," the latest episode of "Nature" airing on May 8, looks at the animal's behavior as captured by homeowners in Central New York and cameras placed on wild deer.
The North American deer population has exploded in the past century, according to a press release. Nearly 30 million deer now roam the continent, up from less than one million a century ago.
"We as humans have created pretty much the perfect habitat for deer," said Cornell University's Jay Boulanger.
Yet one type of deer remains rare. Albino deer, also known as "white ghost deer," live "a private life in the northern Wisconsin woods," according to PBS. Captured here by photographer Jeff Richter, the albino deer appears almost mythical.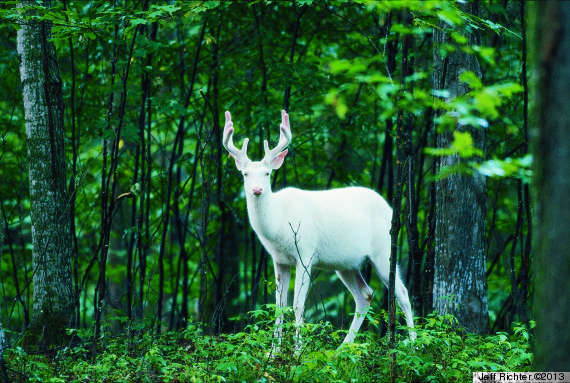 Even if some might see the deer as a nuisance, "The Private Life of Deer" still makes them look "adorable," notes The New York Times. "Even the most ardent deer despisers would have to admit from the images here that these critters are lovely."
Officials in Washington, D.C. recently delivered several hundred pounds of deer meat to area homeless shelters after a controversial National Park Service-sanctioned hunt in a local national park earlier this year.
Organizations like the Humane Society criticized the hunt and argued the Park Service "had a much better option on the table" than "a wasteful killing program during the spring birthing season."
Animal rights organizations have condemned sport hunting, and argue it can leave deer suffering after being shot, or merely wounded by archery equipment. Some state officials defend deer hunting for population control.
Deer are also often hit by cars. A State Farm Insurance estimate suggests 1.23 millon deer were hit by vehicles between July 2011 and July 2012.
"The Private Life of Deer" airs on May 8 at 8 p.m. (ET) on PBS.
PHOTO GALLERY
The Private Life Of Deer
BEFORE YOU GO