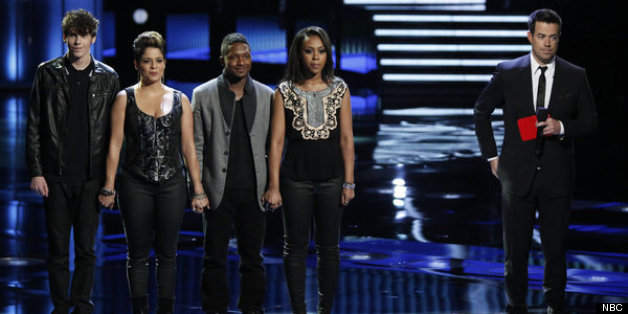 "The Voice" results are in and Justin Rivers, Karina Iglesias, Cathia and Caroline Glaser are going home.
It was the first live elimination ceremony for "The Voice" Season 4 and coaches Blake Shelton, Shakira, Usher and Adam Levine each had to choose one of their team members to be eliminated. "The Voice" results revealed which two contestants America saved from each team and then the coaches had to choose between the remaining two.
But before "The Voice" results were revealed, there was a strange moment. Host Carson Daly admitted that there were some issues with the online and text votes this week. The CEO of Telescope, the company that handles the voting for "The Voice" and many other reality competition shows, joined Carson on stage and said that because of the inconsistencies in online and texting, the votes cast via those methods were not counted for any contestant. "Telescope certifies that removing those votes did not affect the outcome for any team," Carson said.
And then, it was on to the first "Voice" results of Season 4.
Team Blake was first on the chopping block on Wednesday's "Voice" results show. America saved Holly Tucker and Danielle Bradbery, putting Blake in the tough position of choosing between the Swon Brothers and Justin Rivers. "I'm at a loss right now," Blake said. "I love all three of you guys ... I respect you as men and I respect you as great singers and artists." Ultimately, he had to make a choice and the coach went with the Swon Brothers. "Justin's been like another brother," Colton Swon said. "It's bittersweet."
Team Shakira was next: Sasha Allen was the first contestant America saved, followed by Kris Thomas. Shakira had to choose between Garrett Gardner and Karina Iglesias and she was truly distraught. After a long explanation, she went with Garrett, sending Karina home. "I feel like I can affect change in the life of this person," Shakira said of Garrett in defense of her decision. When Karina said her goodbyes, she assured viewers that "this isn't the end."
Next up was Team Usher. Unsurprisingly, America saved fan favorite Michelle Chamuel, but the voters' next pick, Vedo, took Usher by surprise. "I did not see that one coming," he admitted. Usher was left to choose between Cathia, who daringly sang Whitney Houston on Monday night, and former model Josiah Hawley. After much contemplation, the newbie coach decided to save Josiah.
Finally, Team Adam's results came in. America saved powerhouse Judith Hill and teen country artist Amber Carrington, leaving two of Adam's favorite singers up for elimination. Adam said the choice between Sarah Simmons and Caroline Glaser was "killing" him and time was ticking. With seconds left in the broadcast, a flustered Adam chose Sarah, sending Caroline home.
So that means your Top 12 are: Team Blake's Holly Tucker, Daniel Bradbery and the Swon Brothers; Team Shakira's Sasha Allen, Kris Thomas and Garrett Gardner; Team Usher's Michelle Chamuel, Vedo and Joshiah Hawley; and Team Adam's Judith Hill, Amber Carrington and Sarah Simmons.
"The Voice" results show started off with a bang when Team Shakira and Team Blake performed The Script Feat. Will.I.Am's "Hall Of Fame." Later on, Team Adam and Team Usher took on "Don't You Worry Child" from Swedish House Mafia ft. John Martin.

Elsewhere during "The Voice" results show, Rod Stewart performed his newest hit "Finest Woman" and his classic hit "Forever Young" with the help of a few of "The Voice" contestants: Garrett and Karina from Team Shakira and Team Usher's Josiah. Former "Voice" judge Cee Lo Green also returned with Season 2 finalist Juliett Simms to sing his new single "Only You."
"The Voice" airs Mondays and Tuesdays at 8 p.m. ET on NBC.
BEFORE YOU GO