We love posed wedding photos. They're timeless, classic and a good way to ensure everyone in the bridal party gets photographed.
But we also adore candid pictures; those incredible moments between newlyweds, caught unawares, that remind you what weddings are all about: love.
The Summer issue of New York Weddings (available now as a free download through iTunes) highlights an interesting new trend in wedding photography -- the rise of the "photojournalistic" style.
"Photojournalists offer a vérité alternative to traditional shooters," writes Mickey Rapkin in the New York Weddings piece. Indeed, photojournalists have captured some of the most evocative wedding pictures we've ever seen. Take a look at one example by Ron Antonelli from New York's feature below: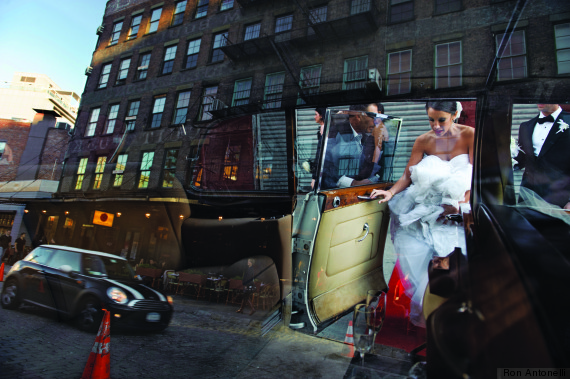 Said the bride, Tamra Sanford: "My husband and I were stepping into a vintage Rolls-Royce on our way to the reception. Ron somehow kept me in focus while shooting through the car window, capturing the feel of the meatpacking district in the reflection. I smile every time I look at this photo because I remember how excited I was, anticipating a fun-filled night."
What do you think of this photography trend? Let us know in the comments!
Keep in touch! Check out HuffPost Weddings on Facebook, Twitter and Pinterest.
BEFORE YOU GO
PHOTO GALLERY
Wedding Photographers' Favorite Photos