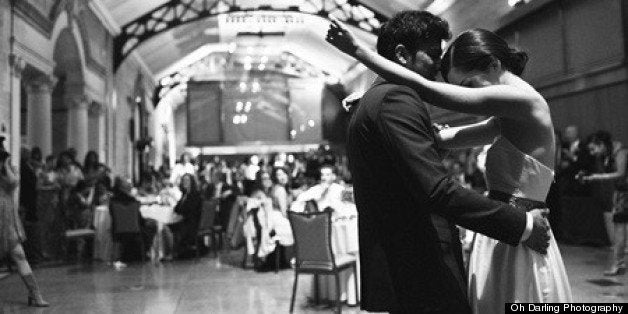 Wondering what's trendy in weddings and how to incorporate some "of the moment" details into your Big Day? We've got answers!
What are the biggest trends you're seeing right now?
"Gatsby"-esque, roaring 20s, deco-ish black-tie weddings. We're seeing couples look to the past for musings on how to create a lavish wedding. Estate mansions are a great backdrop for creating this style of wedding, although in June we are transforming a loft space into a proper black tie affair (Gatsby himself would be proud!)
So many beautiful geometric shapes and tonalities are found within deco design. Play these up with paper goods. The invitations should be elaborate and send a clear message to guests that this is a wedding they won't want to miss. Formalities and etiquette are a must when creating a true 20s style wedding. Table assignments and seating assignments are in order!
How can couples incorporate this trend if they're on a tight budget?
Pay close attention to the era and look at the details. All of the elements you'd usually have within a wedding (stationery, flowers, etc.) can be designed to work with this style of wedding. Use of a particular font style shouldn't break the bank (there are some deco fonts that are even free!).
Choose a table setting/china pattern that has a gold accent, or interesting geometry. If that breaks the budget, then choose one special element within the place setting: decorative flatware, or a unique goblet. That one piece can go a long way. Choose the color palette wisely, that will go well with the accents of the table setting.
What's one trend you wish would go away?
Any type of rhinestone or gem incorporated into a bridal bouquet. Outside of a "Pirates of the Caribbean" wedding theme, using "bling" as decoration in general should just go away. It's cheesy and looks cheap! The only bling should be in the jewelry worn by people.
What's one thing couples should splurge on?
Food and drink!
What's one thing couples should save on that they often splurge on?
Favors -- when the wedding is good, people rarely notice the favor. So go easy on your budget, and do something simple and edible.
What's one thing you wish you could say to every engaged couple?
Expect some of your closest family and/or friends to begin acting strangely toward you. Weddings (for some reason) bring out the strangest behavior in some people; people you would never expect will start to change. Although weddings are a hugely happy occasion -- for some -- [friends and family] can only see through their own "life lens." So while they want to be happy for you, they may have unresolved feelings about their own situations. Ultimately if you expect this to happen, you won't be surprised when it does -- and you are less likely to allow it to steal any of your joy!
Click through the slideshow below to see photos from some Erganic Design weddings.
PHOTO GALLERY
Real Weddings: Erganic Design