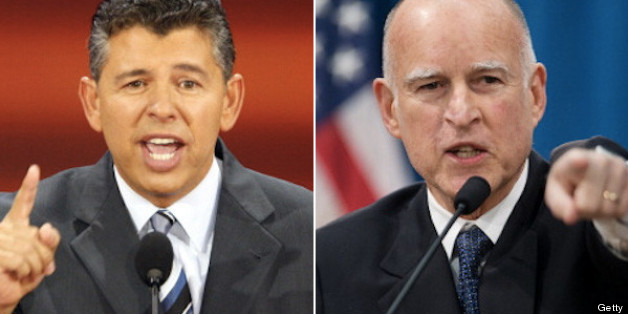 Abel Maldonado, who is preparing to challenge Gov. Jerry Brown in next year's gubernatorial race, said Wednesday he will file a ballot initiative to repeal California's prison realignment, an issue Republicans consider a potential liability for Brown.
The former lieutenant governor provided few details about the initiative, but the circumstances of his announcement suggested Maldonado will make the issue a centerpiece of his campaign.
"I'm here to address an issue that threatens the lives of every Californian, an issue that is the most important issue in California in a generation," Maldonado said. "It is an issue that affects the quality of life and the safety of every citizen of my home state of California."
Brown has faced criticism for months from Republican lawmakers -- and some Democrats -- seeking to modify or repeal elements of realignment, the 2011 law in which the state shifted responsibility for certain low-level offenders from the prison and parole system to counties. As Maldonado did at his event on Wednesday, critics highlight crimes committed by offenders they say were released under realignment.
The Democratic governor has said he is considering "some ideas" about potential changes to the law, but his administration is also under a court order to reduce California's prison population. Jeffrey Callison, a spokesman for the California Department of Corrections and Rehabilitation, said realignment has reduced the state's prison population while bringing "a more rational criminal justice system" to California.
The initiative Maldonado proposed would appear on the same ballot as the gubernatorial runoff election in November 2014, and his news conference had all the hallmarks of a campaign event.
Maldonado addressed reporters from the top floor of a parking garage across the street from the Capitol. The location provided the Capitol dome as a backdrop, and Maldonado's strategist, John Weaver, was on hand.
Maldonado said his motivations are not political.
"This press conference is not about the governor's race," he said. "I said a couple of weeks ago that I was going to raise some resources to figure out if I was going to be a candidate for governor. I would venture to say that if you look at what I've been doing, there's a pretty good shot that I'm going to be running for governor. But I'm here to tell you today that this press conference is not about Abel Maldonado running for governor."
Evidence about the impact of realignment on California's crime rate and recidivism remains scant, and public opinion appears to be mixed.
Jack Pitney, a government professor at Claremont McKenna College, said it "makes sense politically" for Maldonado to raise public safety as a campaign issue, even if the benefit to Maldonado's candidacy may be minimal.
"It could help him a bit," Pitney said, "but the much bigger question is whether he can get enough financial and political support to be a viable candidate."
Maldonado said that instead of shifting responsibility for certain offenders to counties -- where he said they are often released early -- the state should invest in additional prison capacity. He said counties under his initiative might be able to keep some of the money provided them under realignment but that details would come "down the road."
Maldonado is one of several Republicans considered potential challengers to Brown, including former U.S. Treasury Department official Neel Kashkari and Twin Peaks Assemblyman Tim Donnelly.
Political observers of both parties consider any effort to unseat Brown a long shot. The third-term governor has not yet said if he will seek re-election, but he is raising money for the effort and is widely expected to run.
Maldonado, a former state lawmaker and farmer from Santa Maria, is coming off back-to-back electoral defeats. After being appointed lieutenant governor by then-Gov. Arnold Schwarzenegger in 2010, Maldonado failed in his campaign to retain that position and, more recently, to attain a seat in Congress.
In his current, gubernatorial effort he has moved to criticize the incumbent early.
"Governor Brown has failed to lead," Maldonado said Wednesday. "Governor Brown has prioritized. He's failed to prioritize. And I want to stop there, because actually, he has prioritized, and it's not the safety of the people of California."
Call David Siders, Bee Capitol Bureau, (916) 321-1215. Follow him on Twitter @davidsiders.
BEFORE YOU GO
PHOTO GALLERY
Sh*t Jerry Brown Says