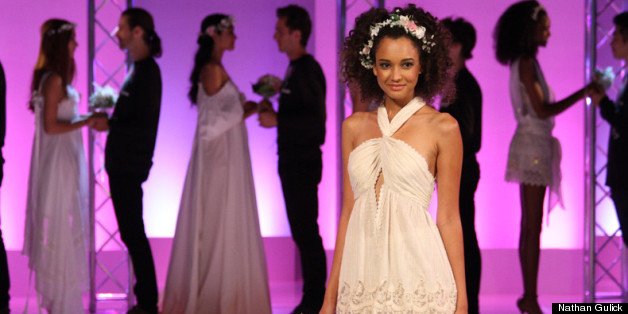 Designer Claire Pettibone skyrocketed to bridal fame when Facebook founder Mark Zuckerberg's now-wife, Priscilla Chan, donned a Pettibone gown on her Big Day in 2012. Now, Pettibone is using her design chops and social cachet to give back to budding designers.
Pettibone spent the last year mentoring students at Los Angeles' Otis College of Art and Design, helping them to craft gorgeous bridal gowns with an ethereal, garden party feel. On Saturday, the students showcased their work at a black-tie benefit and fashion show in Beverly Hills. Pettibone, herself an Otis alumna, was on hand to present an award to the standout student of the year.
HuffPost Weddings caught up with Pettibone after the event and got the inside scoop on the mentoring experience. Below, the couturier shares her thoughts and advice to budding bridal designers.
Why did you agree to mentor Otis students?
So many amazing teachers and mentors have shared their knowledge with me along the way, so this was a great opportunity for me to give back to the college that gave me my start. None of us gets where we are without the help of others, and I found this experience to be very gratifying, as well as a fun trip down memory lane.
What was the most surprising part of the experience?
The willingness of the students to put such effort into their creations was a great surprise. Keep in mind, these are first-year fashion students, so for many of them, this is the first gown they have ever made. One student constructed a very intricate back design all by hand, another hand dip-dyed hundreds of ribbons. In one case, they ran out of a pin-tucked fabric, so the student stitched tiny seams in straight rows to replicate the look –- not easy to do!
Tell us about the student who won the "Claire Pettibone Award." Why did you choose her?
After my first visit to the school to give design direction, Joo Yeon Oh presented a gorgeous assortment of sketches to choose from. I felt this particular design really captured the spirit of a garden wedding, and very much fit my brand aesthetic. The first fitting done in muslin was lovely, and she flawlessly dip-dyed the final piece a soft rose. Every step was executed beautifully, and I felt this dress was a lovely interpretation of the design direction.
What's one thing you want budding bridal designers to know?
A wedding gown is, without a doubt, the most important piece of clothing a woman will wear, so be sure you thoughtfully consider that responsibility. It is crucial to listen to your clients and develop your craft, preferably under expert guidance before launching out on your own. Sometimes talent and a leap of faith can be a sensation in the fashion world, but I think bridal requires some life experience and maturity (plus major draping and tailoring skills!) in order to be successful.
Click through the slideshow below to see runway images by Nathan Gulick and behind-the-scenes images by Guy Toley.
PHOTO GALLERY
Claire Pettibone at Otis College
Keep in touch! Check out HuffPost Weddings on Facebook, Twitter and Pinterest.