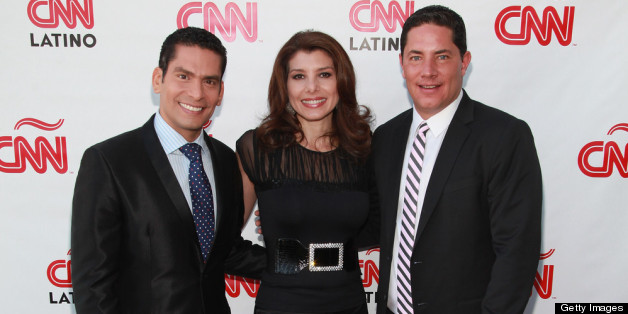 CNN en Español and CNN Latino unveiled its programming for the next year with a broad spectrum of news, lifestyle, documentary and debates.
Cynthia Hudson, senior vice president and general manager of CNN en Español and Hispanic Strategy for CNN U.S. announced that CNN en Español will be taking several shows on the road this year.
"Conclusiones," the primetime show that airs on CNN en Español hosted by Fernando del Rincon, which monitors the key happenings of the day, combining in-depth analysis of the most important news of the day, will be taped in Los Angeles in October.
CNN en Español's morning magazine-style news show, "Café CNN," anchored by Carlos Montero, Lucia Navarro and Alejandra Oraa, will also hit the road and tape its show from Mexico in September. For one week, the show will travel to Mexico to showcase the best of what this country has to offer: From music to gastronomy, its novel and modern architecture, to the richness of its history and colonial heritage, as well as interviews with some of the most notable artists, politicians and economists.
Moreover, "Cala", the primetime interview show that airs on CNN en Español hosted by journalist Ismael Cala, will tape a special series of interviews from Los Angeles in November with some of the most prominent Latin Americans and U.S. Hispanics.
The shows for CNN en Español that will have new special editions this year include:
"Fashion Backstage Pass", a worldwide look at Fashion Week that goes behind the scenes to look at the latest trends in the industry, and will showcase interviews with up-and-coming designers, as well as established designers, tastemakers and brands.
"Planeta Verde", a series of special reports presented by CNN special correspondent, environmentalist and documentalist Phillipe Cousteau, who will take a close look at environmental issues that address different aspects of the environment, including companies and individuals who make a difference with regard to the future of our planet
"Camino a la Copa Brasil 2014", CNN en Español's coverage of the days leading up to the World Cup and the tournament live from Brazil and around the world, with insightful reporting, high profile interviews, specials, in-depth analysis and a global perspective, not only on the air, but also online and on mobile.
"Frente a Frente", a series of specials hosted by Spanish journalist Ana Pastor, where she will interview some of the most important Spanish and international personalities, from the fields of politics, arts, culture and sports
"Vive el Golf with Lorena Ochoa," presented by former Mexican golf player and number one in the world Lorena Ochoa, is the ideal vehicle for all viewers, whether golf savvy or not, to enjoy tournaments, learn about the sport and its techniques, follow the most prominent players, and acquire a taste for playing golf.
CNN Latino expands to Salt Lake City
On the other hand, CNN Latino, the Spanish-language programming block custom-made for the U.S. Hispanic market, is expanding to Salt Lake City, according to Hudson.
With the addition of this new market to its existing presence in Los Angeles, New York, Orlando, Tampa and Phoenix, CNN Latino programming will now be available in markets that represent about 30 percent of U.S. Hispanic Households.
CNN Latino's broad spectrum of programming covering news, lifestyle, documentary, talk and debate represents an alternative to traditional Hispanic networks, and it will now be available on KPDR-LD Channel 19 in Salt Lake City. As part of its expansion plan, CNN Latino has partnered with KPDR Partners, to develop its alliance with this new affiliate. KPDR-LD will be broadcasting CNN Latino's programming block from 4-12 PM (MT). They anticipate providing local Hispanic content in the future.
Originally published in VOXXI as CNN en Español and CNN Latino reveal their programming plans
BEFORE YOU GO
PHOTO GALLERY
Latinos At Time's '2013 Most Influential People'