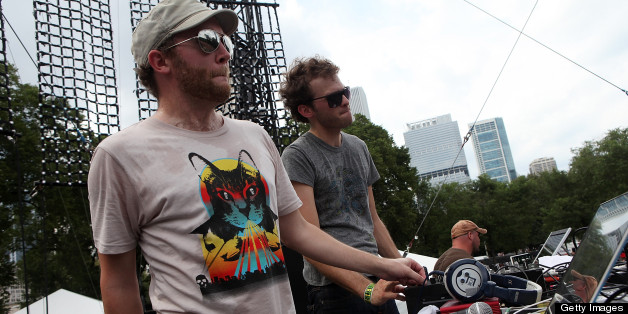 Where can you see a live show with both veteran indie darlings Broken Social Scene and "Feelin' On Yo Booty" crooner, R&B legend R. Kelly?
On a Hood Internet mixtape of course, and perhaps in Detroit Friday.
If you don't know these guys, it's time to brush up on Chicago duo ABX (Aaron Brink) and STV SLV (Steve Reidell) and download some of the many free tracks and mixtapes they've been pumping out for years now. Yeah, you're tired of the one-off mashup now that everyone's a DJ -- we get it. But as 2 Chainz would say over a STRFKR melody, this is "different". The Hood Internet dudes are masters of their sonic craft, and their loose formula, rap hooks matched surprisingly well to indie beats, works time and time again.
Other recent song pairings: Detroit's Danny Brown with the Dirty Projectors, Kendrick Lamar with Girafface, Justin Timberlake and Jay-Z with Daft Punk and Frank Ocean with Robyn. And while that R. Kelly song is old, it still sounds fresh -- and we've been listening to "I'm a Flirt (Shoreline)" since it became a college party playlist staple in spring of 2007.
Or as the Village Voice once put it, it might feel more like the best kind of middle school party:
The scene at the Bell House Friday night could've easily been mistaken for a totally rad Bar Mitzvah: A dance floor filled with boys and girls not touching, but rather dancing in circles around each other (some were even shoeless) to songs like "Whoomp! (There It Is)" and Soulja Boy, a well-lit atmosphere with neon-blue party lights and lots and lots of punch. And by punch, I mean alcohol. That's just the sort of get-down-with-yourself-and-wile-out-like-you're-still-that-prepubescent-kid-who-doesn't-give-a-f*ck-what-anyone-thinks-of-his-dancing vibe that the Hood Internet tends to provide.
The Hood Internet joins Oscillator Bug as an opener for Black Moth Super Rainbow at the Magic Stick Friday night at 8 p.m. It's a fitting pairing -- ABX and STV SLV have mixed the Black Moth Super Rainbow several times before. Lead singer Tobacco appears on Hood Internet's "More Fun":
The song is from their 2012 release "FEAT", their first dive into the world of non-mashups.
The cast of characters that make up Black Moth Super Rainbow hail from Pittsburg and work with an air of mystery -- the lead singer's voice is disguised with a vocoder. With creep-pop songs like "Folks with Magik Toes" and "I Think It's Beautiful that You Are 256 Colors Too" on their 2007 album "Dandelion Gum," it's easy to dismiss them as dreamy synth only suitable for cloud watching.
But they've always had a dark side, especially if you listen to the lyrics. 2012's "Cobra Juicy" straddles that line with plenty of distortion and vocoder magic from frontman Tobacco. Dark enough for a spring night in Detroit, anyway.
More on the show at the Magic Stick's site.
PHOTO GALLERY
The Hood Internet
BEFORE YOU GO