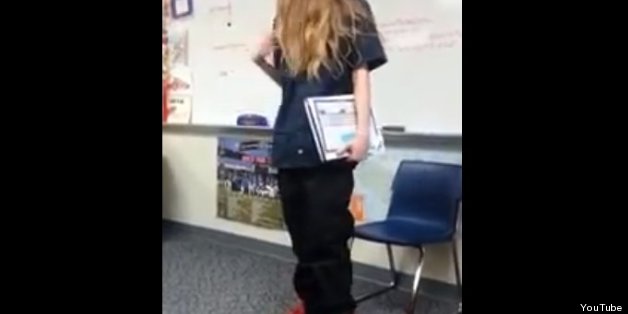 For every student who's ever been frustrated by a teacher's lack of… err… teaching, this one's for you.
Jeff Bliss, a sophomore at Duncanville High School in Duncanville, Texas, went off on his World History teacher earlier this week after being kicked out of class, reports Fox4. In a rant which was recorded by a classmate, Bliss criticized his teacher for giving out packets instead of engaging with students.
Watch in the video below.

"If you would just get up and teach them instead of handing them a freaking packet, yo. There's kids in here who don't learn like that, they need to learn face-to-face," said Bliss to his teacher in the video, which has gone viral.
Bliss goes onto say that in order for the teacher to see change in the classroom, she must make her students excited and touch their hearts.
"You got to take this job serious, this is the future of this nation… this is my country's future and my education," said Bliss.
In an interview with WFAA-TV, Bliss told the channel that he did not regret his remarks, and that he became serious about his education after dropping out of school for a year.
"I want to see a teacher stand up and interact with the students, get involved, discuss, talk, question and dig deep into the subject," said Bliss in the interview.
The district released a statement regarding the incident, which read: "We want our students and teachers to be engaged, but the method by which the student expressed his concern could have been handled in a more appropriate way," per Fox 4.
WARNING: Video contains some graphic language.
BEFORE YOU GO
PHOTO GALLERY
School Lunches Around The World