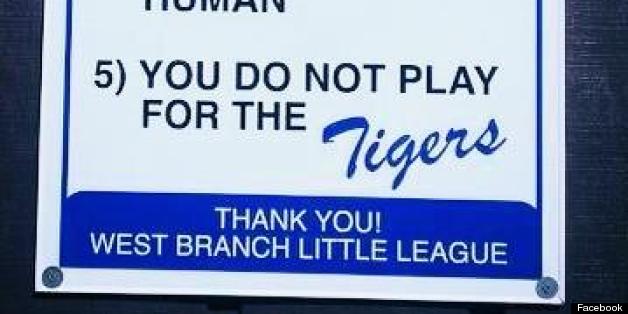 Dear belligerent parents, hyper-focused coaches and prepubescent Justin Verlanders in the making..
The West Branch, Mich. Little League has a message for you.
This is a game.
The photo of this sign, which was shared by the Vintage Mitten Facebook page, offers some helpful advice to remember for anyone who has watched, coached or played Little League baseball.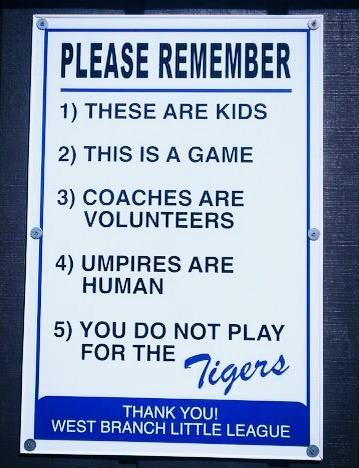 Wrote Vintage Mitten, "Great job, West Branch! As the mother of a little-leaguer, I believe every baseball field in the Mitten should have a copy of this sign! #LifeLessons #FairPlay"
Sounds elementary, right? Strike one. A few recent news stories point out just how ugly kids' baseball can get.
Authorities recently arrested a 23-year-old man who allegedly shot at the father of a Little League player after an argument during a North Vallejo Little League game. Last week, a Long Island mother was arrested after allegedly sending a half-dozen threatening letters to coaches, officials and even an 11-year-old after her son didn't make the Little League travel team.
HuffPost blogger John McCormick offered some helpful hints to parents whose children are playing Little League sports for the first time. One tip? Restrain your urge to holler helpful "advice" from the sidelines.
"There can only be one coach on a team, and yelling out conflicting or distracting instructions from the sidelines will only heap more stress and confusion on your child," he wrote.
What is your advice to Little League parents, coaches, fans and players? Leave us your thoughts in the comments.
(H/T: Vintage Mitten Facebook)

Photo: John Young for West Branch Little League, published courtesy of Vintage Mitten

BEFORE YOU GO
PHOTO GALLERY
PHOTOS: Little League World Series Champs