What is a surefire way to sell movie tickets? Feature a spandex-clad Megan Fox jumping on a trampoline, of course.
On Wednesday, the 26-year-old actress was spotted jumping over and over again on a mini-trampoline as she filmed a scene for the new "Teenage Mutant Ninja Turtles" movie.
Fox, who dyed her hair red to play Channel 6 reporter April O'Neil, appeared to be filming a news segment for the movie. She was dressed in a cleavage-baring purple tank top, skin-tight black leggings, and a black sweatshirt.
Fans of the original cartoon may be happy to learn that while Fox won't wear O'Neil's signature yellow jumpsuit, she was later spotted filming a scene in a yellow leather jacket, a happy compromise that definitely modernizes the costume.
The film is being produced by Michael Bay, whom Fox famously feuded with after appearing in two of the "Transformers" movies for the director. (She compared Bay to Hitler and Napoleon.) The two have since made up.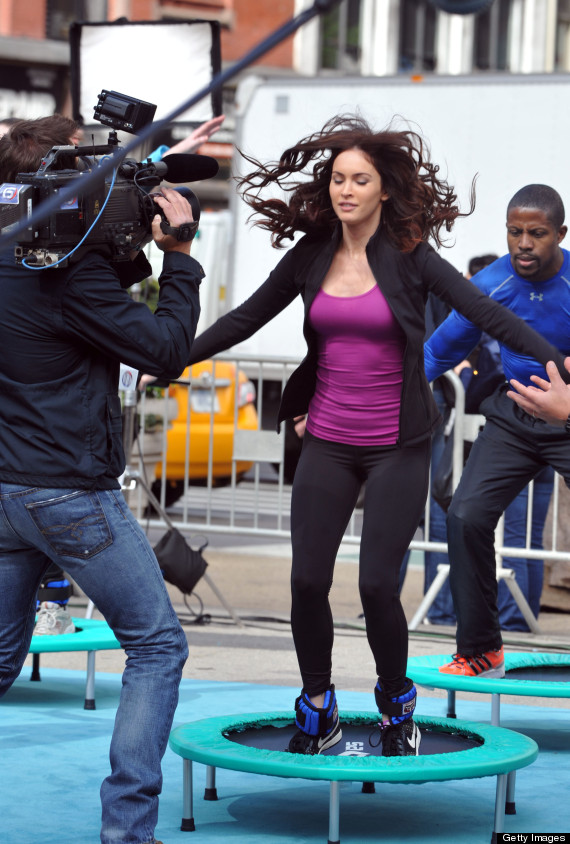 Check out more photos of Megan Fox on set:
PHOTO GALLERY
Megan Fox As April O'Neil
BEFORE YOU GO