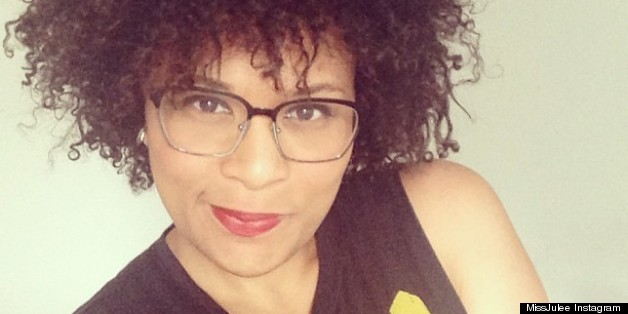 Somewhere in a small section of hair hell, weaves and half wigs are looking up to us naturalistas wondering where it all went wrong. No longer just the thing to do, going or being natural is officially a revolution that's being televised, documented, discussed and most importantly embraced.
So when I see my fellow beauty editors out at events, and we're all sporting our fros and twist outs, my soul gets a little warm on the inside. Before I even began writing, please believe that I was checking for Julee Wilson. As the style and beauty editor for Huffington Post Black Voices, she interviewed me for a few of her beyond amazing feature stories. I instantly wanted to be her homie… and that we are.
So I returned the favor and decided to get her to drop a few hair gems for you beauties. Believe it or not, most natural girls didn't always love their curls and are still figuring out how to solve a bad hair day.
Check out what Julee thinks about her curls now and what products she uses to tame those gorgeous tresses of hers!
Read more on hellobeautiful.com