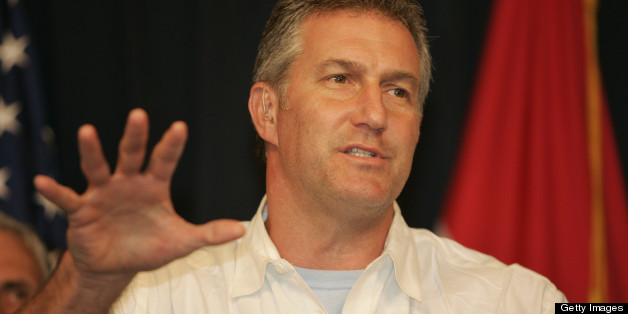 By Brad Poole
TUCSON, Ariz., May 7 (Reuters) - The trial of former Arizona congressman Richard Renzi, who faces public corruption charges stemming from his involvement in a land swap deal, began in federal court in Tucson on Tuesday.
Renzi, a Republican who represented Arizona's 1st Congressional District for three terms until January 2009, faces felony charges including conspiracy, wire fraud, extortion and racketeering stemming from allegations he coerced a mining company into buying land from a former business partner.
Renzi has pleaded not guilty to all charges. His trial got under way with the start of jury selection at the U.S. District Court in Tucson on Tuesday.
According to court documents, representatives for Resolution Copper Mining LLC in 2005 approached Renzi - who was then a member of the House of Representatives Natural Resources Committee - about securing mineral rights to a large copper deposit in Arizona.
The government has alleged that in exchange for his support, Renzi directed an investment group led by Philip Aries to buy property from a former business partner who owed money to him. The government has claimed that partner then funneled money back to Renzi.
The indictment lists the partner, James Sandlin, as a co-defendant with Renzi and two other men. Sandlin, who prosecutors say gave Renzi corporate checks for $121,000 - most of which was transferred to the lawmaker's campaign account - is charged with conspiracy, wire fraud, money laundering and false tax filings.
Andrew Beardall, who was president of Renzi's insurance company, was previously tried and acquitted of conspiracy and insurance fraud. Dwayne Lequire, an accountant who also worked for Renzi, was convicted of some charges, although all were overturned on appeal.
Prosecutors say Renzi illegally transferred more than $400,000 through his insurance company to his campaign coffers and personal accounts between 2001 and 2009 via various bank and trust accounts.
His transfers to campaign accounts in 2002 caused hundreds of insurance policies to be abruptly canceled and not reinstated for several months, when Renzi borrowed funds to repay the company, according to the indictment.
A call to Renzi's defense attorney, Chris Niewoehner, was not immediately returned. (Editing by Tim Gaynor, G Crosse and Kenneth Barry)
BEFORE YOU GO
PHOTO GALLERY
10 Major Crimes That Shocked America (SLIDESHOW)