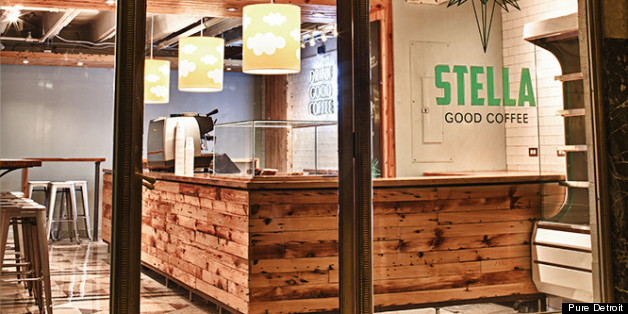 Detroit's Fisher Building has had a coffee shop for seven years and counting, but it's never looked anything like this.
With a new name and a totally new design, Stella Good Coffee re-opens today for at the iconic New Center building and theater complex.
And, sparked by a collaboration with Reclaim Detroit, the owners are banking on the idea that a new style, created from deconstructed Detroit materials, will keep this cafe looking and feeling fresh.
"Our goal was to create the kind of interesting, active place that helps to make cities vibrant," Stella Good Coffee Co-Owner Kevin Borsay, who led the renovations of the space, said in a release.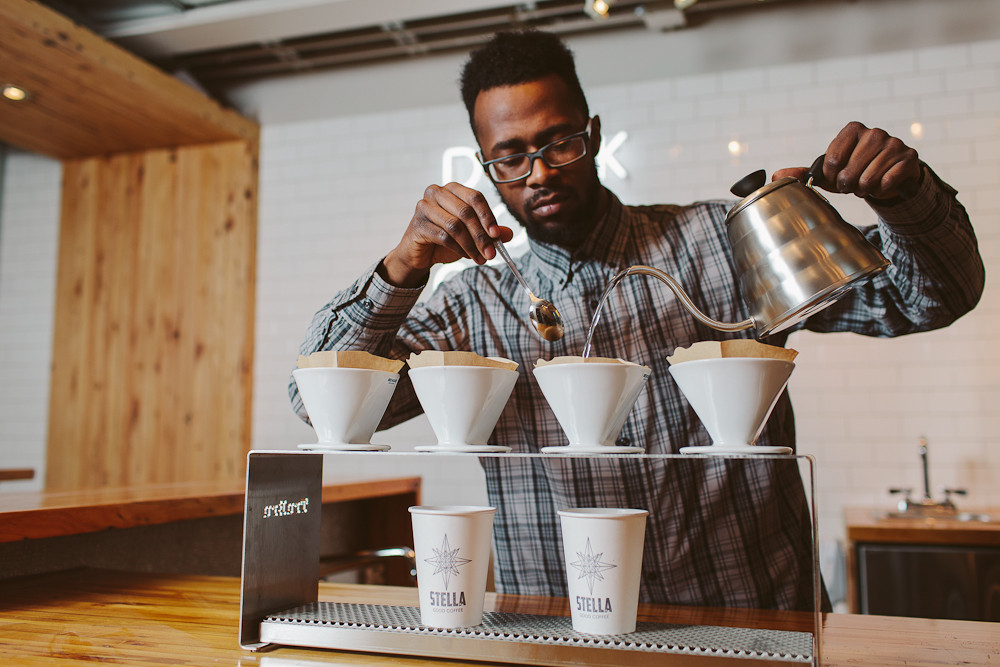 That means customers will set down their coin on counters and bar tops sourced from 150-year-old Michigan Douglas Fir Pine wood, unearthed from a deconstructed Detroit home that was originally built on nearby Cadillac Boulevard back in 1905.
And when Detroiters walk in for coffee, the sound of their footsteps will echo across the Fisher Building's original 1928 marble floors, which had been hidden beneath layers of concrete. Borsay and Architect James Willer, founder of Reclaim Detroit, uncovered and refinished the original marble surfaces.
Willer said the idea behind Stella Good Coffee's makeover was simple: unite conservation and design in a way that didn't compete with the Art Deco splendor of the Fisher.
"Instead of these rare materials ending up in a landfill," Willer said, "we wanted these beautiful materials to become minimalistic design elements to celebrate the original complements the Fisher building has to offer."
And Stella's commitment to honoring Detroit extends beyond its salvaged and recreated materials. The cafe will be serving four different blends of their own locally-roasted pour-over coffees. For eats, baked goods from Midtown purveyors of delicousness Avalon International Breads and Traffic Jam & Snug will be on sale daily, as well as homemade soups from Eastern Market's Russell Street Deli. And while you can't eat the art, it's local, as well. Davin Brainard is the first Detroit-based creator to have his work featured inside the space.
To top it off, Stella Good offers free Wi-Fi to patrons.
Stella Good Coffee will celebrate its grand re-opening on May 21, but they're already serving hot local coffee. The cafe is open Monday through Friday, 6:30 a.m. to 6 p.m., and Saturdays from 10 a.m. to 6 p.m. They'll also be open for extended hours during theater season. Follow all of this cafe's social outpourings on Facebook.
BEFORE YOU GO
PHOTO GALLERY
Baristart Coffee Art