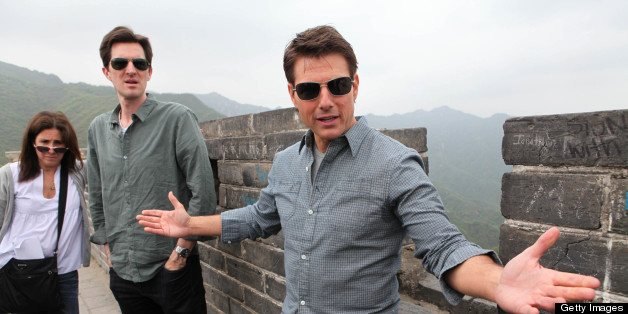 Funny thing about Tom Cruise: despite a strong push from Robert Downey Jr., Cruise is still among the biggest movie stars in the world. "Oblivion" and "Jack Reacher," Cruise's last two releases, both topped $200 million worldwide and his last "Mission: Impossible" film in 2011 hit $694 million around the globe. (A moment of silence here for the flop that was "Rock of Ages.")
Cruise's success won't slow down too much in the near future either: On Thursday, Warner Bros. moved Cruise's next film, an action thriller called "All You Need Is Kill," from its March 7, 2014 release date to June 6, 2014. That puts "All You Need Is Kill" in the thick of the summer movie season, a strong show of confidence for the Doug Liman film.
The reason Warner Bros. made the switch: "300: Rise of an Empire." The studio bumped the sequel to "300" from its Aug. 2, 2013 release date to March 7, 2014. That last-minute move is reminiscent to what Paramount did with "G.I. Joe: Retaliation" last year, when that studio shifted the "G.I. Joe" sequel from its June 2012 release to March of 2013 at the 11th hour. "G.I. Joe" was delayed to outfit the film in 3D, but that's not the case with "300: Rise of an Empire."
"Moving '300: Rise of an Empire' to March 7 continues in the tradition of the first '300,' and kicks off the spring moviegoing season in epic style," Dan Fellman, Warner Bros. president of domestic distribution, told THR. "The film is on track to become all that audiences have come to expect from the franchise."
The first "300" was released on March 9, 2007. It grossed $70 million during its opening weekend in North America and finished with over $456 million in total ticket sales around the globe.
For more on the moves, head over to THR.
PHOTO GALLERY
Celebrity News & Photos
BEFORE YOU GO