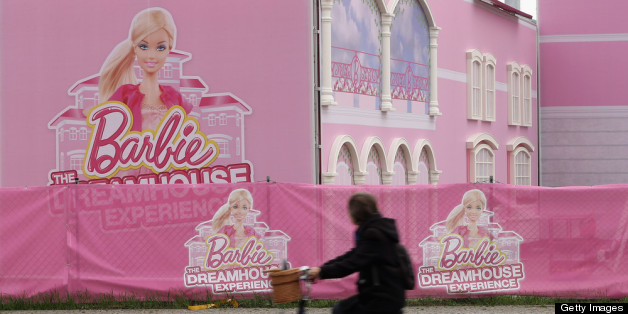 A life-size Barbie Dreamhouse is opening in Berlin on May 16, and local feminists aren't too pleased.
The walk-in replica of Barbie's iconic Malibu mansion is designed to provide fans "a completely new insight into the living interior and lifestlye of the most famous doll in the world," according to the Barbie Dreamhouse website.
For 15 euros ($19.50) per adult and 12 euros ($15.50) per child, visitors can try on Barbie's clothes in her "seemingly endless" walk-in closet, tour her living room and pretend to bake in her kitchen.
Makeovers for two different Barbie careers -- fashion model or pop star -- are offered for an extra fee.
A group called "Occupy Barbie Dreamhouse," launched by members of the youth wing of Germany's far-left party Die Linke, plans to protest the opening, saying the dreamhouse broadcasts oppressive gender stereotypes to young girls.
"They present an image of cooking, primping and singing as if it were in some way life-fulfilling," anti-dreamhouse activist Michael Koschitzki, 27, told Der Spiegel. "The Barbie Dreamhouse is the expression of a conventional role model that isn't OK."
"Our protest isn't directed against parents who visit the Barbie House or against children who play with Barbies (although a real woman with Barbie's figure would be anorexic, wouldn't be able to walk, and would never get her period.)," explained the Occupy Barbie Dreamhouse Facebook page, which has garnered 1,400 likes. "We're protesting the image of women that the Barbie Dreamhouse perpetuates."
Protesters have been registering their disdain by modifying advertisements for the Dreamhouse, giving Barbie facial hair, glasses, and adding the words "House of Horrors" to the posters, according to the Sueddeutsche Zeitung.
Protest organizers said they aren't expecting a huge turnout. "We will be very happy if we can bring together 100 people," Koschitzki told Agence France Presse.
Barbie manufacturer Mattel seemed unfazed. "Barbie has again become a tool for some to advance their own agenda," a spokeswoman for the company's German division told AFP.
A Barbie Dreamhouse opened this week in the U.S., at the Sunrise Mall in Sawgrass Mills, Fla., without incident.
(h/t Jezebel)

BEFORE YOU GO
PHOTO GALLERY
Dolls Without Makeup By Nickolay Lamm