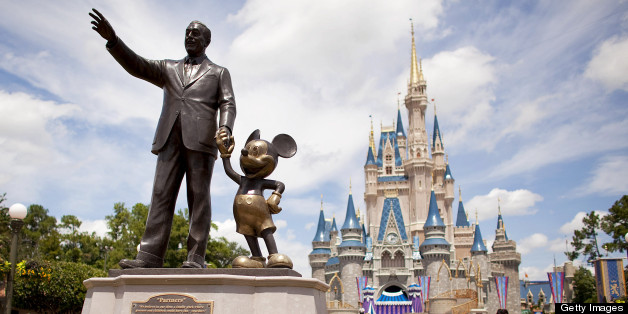 Walt Disney World's unofficial "Gay Days" tradition is coming under fire from a conservative and notoriously anti-gay group.
One Million Moms, a division of the American Family Association best known for threatening to boycott JC Penney after the retail chain hired Ellen DeGeneres as its spokesperson, now sets its sights on the Orlando-based resort.
"The first Saturday in June, homosexuals, bisexuals and transvestites will be at the Magic Kingdom with an agenda and purpose different than what would be expected at Disney," members of the group write on their website. "Homosexuals will be celebrating the 23rd anniversary of Gay Day wearing matching Gay Day merchandise, such as T-shirts. There will also be transvestites dressed in drag showing their support for the event."
Urging visitors to send an email to Disney's CEO and other officials, the post continues, "Disney has been irresponsible for far too long. Disney representatives and security need to maintain a family-friendly atmosphere and require proper conduct and dress code on a daily basis."
You can read the full post here.
It isn't the first time the annual event has faced criticism. Last year, the Florida Family Association vowed to protest the event by flying two planes carrying "warning" banners over the resort.
"We want to warn families before they expose their children to Gay Day's same-sex revelry, before they pay money to Disney for parking, admission, novelties and food," the group noted on its website at the time. "We also want to send a message that Gay Day's public promotion of homosexuality to a captured audience inside the park is wrong."
The Walt Disney Company has never officially sanctioned "Gay Days" -- which has been deemed "the world's most popular gay and lesbian celebration" by its organizers draws a reported 150,000 LGBT travelers to the theme parks each year -- and has requested employees to treat it just like any other day, according to Time magazine.
Earlier this year, the Walt Disney World resort made headlines by welcoming George Kalogridis as its first openly gay president. Kalogridis, who previously served as president of California's Disneyland, reportedly plans on building a home in Golden Oak, Disney's new luxury subdivision, with longtime partner Andy Hardy, also a Disney employee.
BEFORE YOU GO
PHOTO GALLERY
25 LGBT-Friendly Products & Companies Targeted By Boycotters