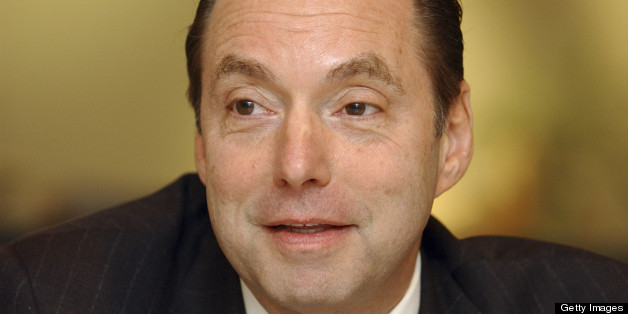 A key Republican donor lashed out Thursday against the Illinois GOP when he blamed the party's most conservative leaders of "destroying" their 2014 election chances with how they handled the ousting of their now ex-chairman Pat Brady.
Ron Gidwitz told the Chicago Sun-Times on Thursday that the conservative arm of the party's state central committee was lacking in leadership in how they put pressure on Brady to resign without a contingency plan on how to deal with the fallout and select his successor.
"It is absurd," Gidwitz told the paper. "They are fundamentally creating an irrelevancy for the state party."
Gidwitz's words echo the sentiments of Brady, who announced his resignation as chairman of the Illinois GOP on Tuesday. Though Brady says he is resigning for personal reasons, his announcement came following months of ongoing controversy and threats of a coup over his support of marriage equality for same-sex couples.
Stating that he "absolutely" did not regret announcing his support for same-sex marriage, Brady has maintained in multiple interviews that he hopes the state GOP will be more welcoming of diversity and inclusive if it hopes for more electoral success going forward.
"The party platform, nationally and locally, is on the wrong side of history," Brady told ABC Chicago this week. "And the bedrock principal of conservative beliefs is equality of treatment under the law for everybody. And, if government's going to get in the marriage business, you can't let certain people do it and certain groups not do it."
Among a short list of contenders to succeed Brady in his former post are state Rep. Ron Sandack, failed Cook County State's Attorney candidate Lori Yokoyama, Cook County Commissioner Tim Schneider and one-term ex-U.S. Rep. Joe Walsh, the Sun-Times reports. Whoever is chosen will be tasked with attempting to reverse the trend of poor electoral results for Republicans statewide that has left Democrats with supermajorities in both the state House and Senate.
Sandack, who on Friday was leading an online Sun-Times poll among the contenders, told NBC Chicago that if he were to successfully win the chairman post, he would push the party to have "some flexibility on some issues" and to "focus on freedom, prosperity, trying to keep money in taxpayers' pockets," and not social issues, in order to win statewide offices in Illinois. Sandack is currently one of just two House Republicans who have announced their support of the state's marriage equality bill.
"If the next chairman of the state party is not permitted to expand the tent, it's going to get worse, not better," Sandack told the station.