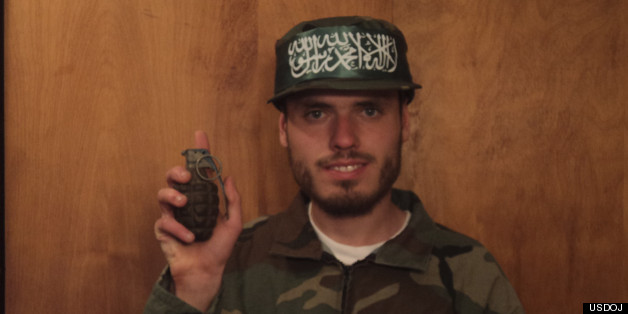 WASHINGTON -- The harsh furloughs being faced by federal public defenders because of sequestration are having an impact on the bizarre case of a 20-something Pennsylvania man who dressed as a Nazi as a teenager before getting involved in jihadist forums online.
Emerson Begolly, who allegedly said he started hating America after a pedophile Christian minister tried to abuse him, has pleaded guilty to solicitation of a crime of violence (related to those jihadist forums) and using and carrying a firearm during a crime of violence (he bit an FBI agent while in possession of a gun). He is scheduled to be sentenced on May 29.
But Markéta Sims, an assistant federal public defender representing Begolly, wrote in a court filing Thursday that she and everyone else in her western Pennsylvania office are being furloughed for 20 percent of the working days remaining in the federal fiscal year, "making it difficult to complete Mr. Begolly's sentencing memorandum." A judge gave her more time on Friday but delayed a decision on whether to postpone the May 29 sentencing.
Sims also wrote that the feds had another inmate at the Northeastern Ohio Correctional Center wear a wire and "surreptitiously record conversations with Mr. Begolly while he was held in pretrial detention." According to Sims, the informant was given access to an attorney-client visiting area at the prison, "providing him with the opportunity to eavesdrop on attorney/client communications in this and many other cases" because the area is not soundproof.
The government, Sims alleged, used the informant to target other prisoners at the facility, "particularly other Muslim inmates."
Before he bit the FBI agent as he was taken into custody in the parking lot of a Burger King in early 2011, Begolly had stockpiled a number of weapons in his home and expressed surprise in his online postings that he was allowed to buy a gun, suggesting that someone at the FBI must have been drunk when he was cleared.
BEFORE YOU GO
PHOTO GALLERY
What Sequestration Would Cut