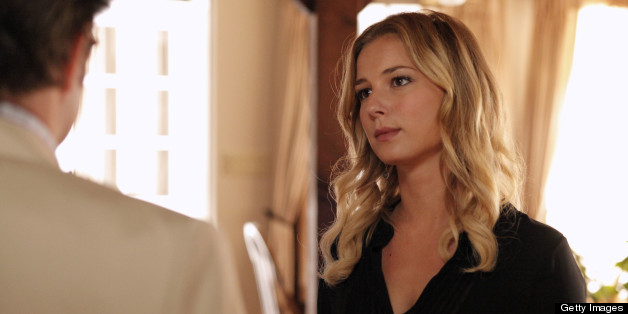 "Revenge" has been renewed for a third season.
After two seasons of drama, backstabbing and death, ABC has officially given Season 3 of "Revenge" the green light.
The newly-renewed "Revenge" follows Emily Thorne (Emily VanCamp), whose father was framed for a crime he did not commit, sent to prison for life, and later murdered in the prison. She returns to the Hamptons, intent on getting revenge on those who wronged her and her father -- with the help of her right-hand man Nolan Ross (Gabriel Mann) -- and at the top of her list is Victoria Grayson (Madeleine Stowe).
Mann tweeted excitedly to fans when "Revenge's" renewal was announced:
S3 !!! ~ UPDATE: ABC Renews #Revenge deadline.com/2013/05/abc-re… via @nikkifinke

— Gabriel Mann (@Gabriel_Mann) May 11, 2013
Season 2 of "Revenge" premiered to 9.74 million viewers, and ratings have remained solid throughout the fall and spring episodes. Despite the success of "Revenge," in April showrunner Mike Kelley announced he would be stepping down from the series.
"In a difficult mutual decision between myself and ABC studios, the end of my current contract will mark my final season as showrunner for 'Revenge,'" Kelley said in a statement. "Helming this series has been the ride of a lifetime."
Mann opened up about the showrunner switch on HuffPost Live recently, saying, "As a cast, we're still all processing that information right now ... Mike is the mad genius behind this whole show and obviously, there's a lot of nostalgia for all the time that we've spent together and what has been created as a group, but ... we have an amazing creative team behind the scenes and, by in large, I think that team will continue to stay in place."
Though this was before "Revenge" was renewed, Mann explained, "Going forward, I think a Season 3 on 'Revenge' may look a little bit different than a Season 1 or 2. But that's the nature of the beast."
Other shows weren't as lucky as "Revenge." ABC canceled "Body Of Proof," "Happy Endings," "How To Live With Your Parents," "Malibu Country" and "Red Widow," which join the previously canceled "666 Park Avenue," "Don't Trust The B---- In Apartment 23," "Last Resort," "Private Practice" and "Zero Hour." On a more positive note, the network renewed "Castle," "Grey's Anatomy," "Last Man Standing," "The Middle," "Modern Family," "Nashville," "Once Upon A Time," "Scandal" and "Suburgatory." ABC has not confirmed the reported fates of "Family Tools" and "The Neighbors."
ABC picked up a number of comedies for the 2013-2014 season: "Super Fun Night" starring Rebel Wilson; ensemble "Mixology"; Malin Akerman's "Trophy Wife"; family comedy "The Goldbergs" and "Back in the Game" starring James Caan. On the drama side, in addition to "Marvel's Agents of S.H.I.E.L.D.," ABC picked up spinoff "Once Upon a Time in Wonderland"; drama "The Returned"; David Zabel's "Lucky 7" and "Betrayal"; the Christian Slater/Steve Zahn vehicle "Mind Games" and Sofia Vergara-produced "Killer Women."
For more on what's to come in the 2013-2014 season, check out the other networks' pilot pickups below:
NBC's new dramas and new comedies
Fox's new dramas and new comedies
CBS' new dramas and new comedies
The CW's new dramas
PHOTO GALLERY
2013 Renewal Index: Canceled, Renewed & On The Bubble Shows
BEFORE YOU GO