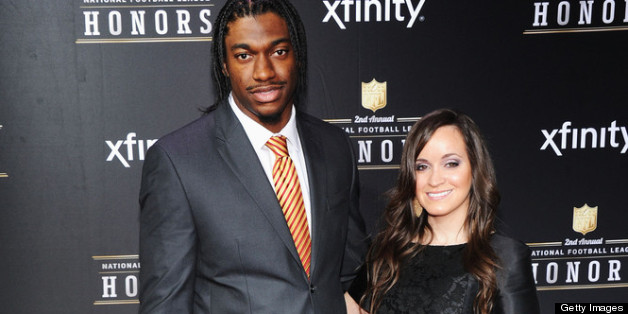 Washington Redskins superstar Robert Griffin III, otherwise known as RGIII, is set to marry his fiancee, Rebecca Liddicoat, this summer, his mother reportedly revealed.
The famous quarterback's mom, Jackie, sat down for an interview with WTTG to talk about her son with reporter Shawn Yancy. She discussed how he enjoys spending time at home, how he texts her before most games and how much he loves his fans. She also allegedly spilled the beans about his walking down the aisle, telling Yancy that RGIII will marry Liddicoat in just a few months.
The Washington Post spotted an online registry that appears to belong to RGIII and Liddicoat, revealing a wedding date of July 6 in Virginia. A Bed Bath and Beyond registry listed for Griffin and Liddicoat for a July 6 wedding appears to confirm this.
Griffin and Liddicoat got engaged back in 2010 after a big win over Kansas State. He had prepared beforehand and told her to meet him at Baylor University's indoor football practice facility. He brought candles and his father brought the ring.
"I had one of my teammates playing the guitar, so I talked to her and serenaded her," he recounted to the Star Telegram in 2010. "I walked into the middle where her family was standing with candles and I popped the question. I couldn't see her face to see her crying, because it was so dark. But when I kissed her I felt the wetness on her cheeks.''
At the time, the two did not have a wedding date set.
The 23-year-old faced a devastating knee injury at the end of his stellar rookie season, but he says he is feeling strong again.
"I'm doing great. The knee feels fine," he told the Associated Press this week. "It's about taking it slow, and each day is a better day because the knee feels better and you do more things. It's just a process that I'm going through."

BEFORE YOU GO