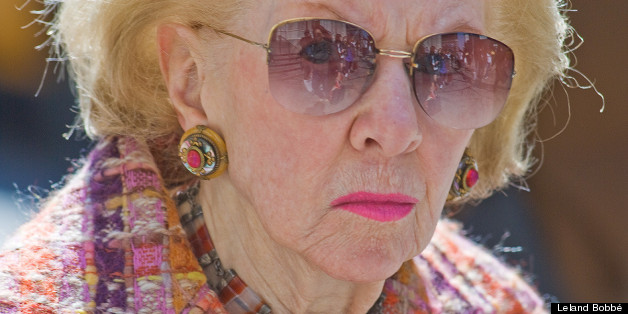 In a photo series called "The Women Of Fifth Avenue," Leland Bobbé-- who you may remember from his half-drag portraits or gritty, 1970s NYC street shots-- went to America's most expensive shopping street and took close-ups of a very particular type of woman.
In Bobbé's own words:
Fifth Avenue, between 50th street and 60th street; home of Trump Tower, Gucci, Bergdorf Goodman, Saks Fifth Avenue, Prada, Luis Vuitton and more; a playground for the rich, ladies who shop and lunch. Behind their jewelry and their sunglasses these women "of a certain age" seem to exist in their own bubble of leisure while the hustle and bustle of working New Yorkers and tourists swirl by. With these images my intention is to capture these woman seemingly in their own wealthy world, insulated from the rest of us.
To us, every photo screams, "Scatter my ashes at Bergdorf's."
Check out Leland's Fifth Avenue photos below, and for more of his work, go here.
PHOTO GALLERY
Leland Bobbé's 'The Women Of Fifth Avenue'
BEFORE YOU GO