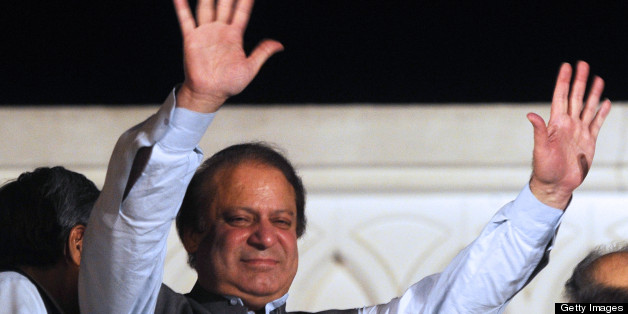 By Michael Georgy and Mehreen Zahra-Malik
ISLAMABAD, May 12 (Reuters) - After 14 years out of power, Nawaz Sharif is poised to become prime minister again, and he is a man in a hurry to clean up what he calls Pakistan's mess.
Sharif said on Saturday his Pakistan Muslim League Party-Nawaz (PMLN) was the clear winner in general elections and that he hoped for a majority to avoid a coalition.
He inherits a country with a dizzying array of troubles, from chronic power cuts to a Taliban insurgency.
"The challenges are huge," the portly Sharif told Reuters in his bullet-proof car during the last days of campaigning. "We have to bail out the economy."
Sharif, who vows to bring in free market enterprise and ease economic controls, says speedy growth is the only answer for nuclear-armed Pakistan, a strategic U.S. ally.
The powerful military still calls the shots in Pakistan but the poll marked the first time that an elected government will replace another one. Nevertheless, Sharif will have to work with the generals, who control foreign policy and security.
The new civilian government will also have to play its part in Pakistan's difficult relationship with the United States.
Washington has a long-standing alliance with Pakistan, but is troubled by elements in the country supporting Islamic militants fighting U.S. troops in neighbouring Afghanistan. Osama bin Laden was found and killed in Pakistan in 2011.
In addition, the economy is stuttering. Power cuts that can last all day have infuriated Pakistanis and crippled key industries. Corruption and poverty are rampant, and infrastructure is crumbling.
Sharif, who made his fortune in steel, seems to have matured as a politician since he was toppled by former army chief and president Pervez Musharraf in a bloodless coup in 1999.
As the main opposition leader, he avoided antagonising Pakistan's powerful army, or bringing down the Pakistan People's Party-led coalition government when it was in trouble.
Instead, he waited patiently for an opportunity to rule and now that his moment has come, he says he is in a hurry to fix Pakistan.
The honeymoon will be short.
NEED FOR REFORM
Pakistan needs billions of dollars from donors to avert a balance of payments crisis but the cash may not flow to the South Asian nation unless politically sensitive economic reforms are implemented.
So far, one politician after another has failed to muster the courage to bring change. Sharif's background suggests he may have the stomach for it, based on his attempts in the past to reverse socialist policies and open up the economy.
Sharif, who was born into a family of wealthy industrialists in 1949, served as prime minister twice in the 1990s, when he tried to promote free market policies.
His family is from Lahore, the capital of Punjab, Pakistan's most prosperous and populous province.
Now he says he is willing to again risk a backlash, and cut government expenditure by 30 percent in order to secure international backing for the economy.
"You see privatisation, free market economy, deregulation - have been hallmarks of our party in government," he said. "We are going to pick up the threads from where we left off."
Despite his reform credentials, Sharif may raise concerns in the West because of his conservative Islamic values: in 1991 he tried to make sharia the country's supreme law.
More recently he has been accused of failing to act against militant groups that have a breeding ground in Punjab. He is one of the few major politicians not on the hit-list of Taliban insurgents.
Sharif's two terms as prime minister in the 1990s were marred by allegations of graft and Pakistan conducted its first nuclear tests on his watch in 1998.
THE MILITARY CONNECTION
Sharif was a protege of military dictator General Zia ul-Haq in the 1980s.
But he became a victim of the powerful military when he was overthrown by Musharraf. He was then convicted of corruption and given a life sentence for hijacking, because he refused to allow an airliner carrying Musharraf to land in Pakistan.
Sharif went into exile in Saudi Arabia, but never lost hope of returning to politics one day.
"In private conversations, Nawaz still gets very emotional when he remembers that period," said a senior journalist who has reported on Sharif for decades. "He has not forgotten being handcuffed and walking through the airport. His face still gets red in anger when he recalls those days."
No surprise, then, that he now talks tough against the army meddling in civilian affairs - a risky stance in a country ruled by generals for more than half of its 66-year history, either through coups or from behind the scenes.
Sharif's attempt to fire Musharraf as army chief ultimately cost him his job in 1999. He will have to avoid further errors in judgment to survive Pakistan's stormy politics, especially when it comes to the top army officers.
Musharraf attempted a political comeback of his own in March when he returned after nearly four years of self-imposed exile hoping to contest the election.
Instead, he has been barred from public office for life and is under house arrest at his luxury farmhouse as cases against him grind through the courts.
With his nemesis humiliated and out of the picture, politics has come full circle for Sharif. He has patiently plotted his own return to the top from his lavish, 700-acre estate near Lahore where peacocks strut on the lawns. (Editing by Jon Hemming)
BEFORE YOU GO
PHOTO GALLERY
Pakistan Pre-Election Violence (WARNING: Graphic Images)