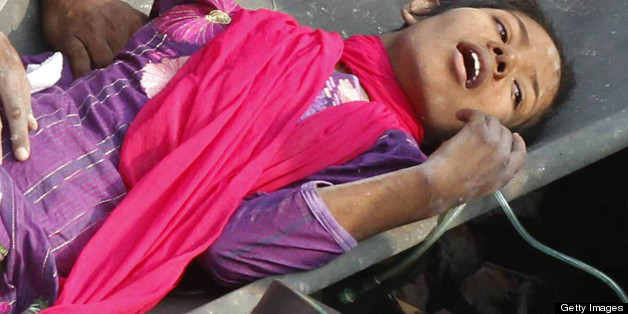 (Edits second paragraph)
By Serajul Quadir and Matthew Green
DHAKA, May 11 (Reuters) - As hope faded of finding any more survivors of Bangladesh's factory collapse, Reshma Begum's family cherished one modest prayer: that hers would be the next body to be excavated from the rubble so they could at least give her a decent burial.
Instead, Begum, 19, was brought back from the dead and hoisted on to a stretcher on Friday after rescuers saw her waving an aluminum curtain rail from a gap in the ruins where she had spent 17 days trapped in a lightless, tomb-like chamber.
When her brother, Zahidul Islam, 33, was led into the military hospital where his sister lay prone, but strong enough to mutter a few words, he was overwhelmed by tears.
"'Brother don't weep,' Reshma told me," Islam said in a telephone interview with Reuters.
As army doctors and officers looked on, Islam threw aside his inhibitions, stepped forward and hugged his younger sibling.
"Straight away I fainted, then I was taken away by the army personnel," Islam added. "The same thing happened to my mother when she learned that Reshma was still alive."
Major Moazzem Hossain, who was involved in the rescue, said Begum had managed to say a few more words on Saturday about her ordeal.
"At some point I fell asleep but suddenly I woke up and it was difficult to know whether it was day or night," Hossain quoted Begum as saying.
Lieutenant Colonel Hassan Morshed, a military physician, said that Begum was recovering well. "Her kidneys and other essential organs are working normally though she is suffering from acute dehydration," Morshed told Reuters.
Live televised scenes of Begum's salvation transfixed Bangladesh, where waves of grief have rolled from the disaster site to engulf far-flung villages where many of the young women and men who staffed the sewing lines were born.
In common with other relatives of the missing, Begum's family had travelled from their village to gather at a schoolground near the ruined factory in Savar, a gritty industrial suburb outside the capital Dhaka, where families kept a sombre vigil for their missing loved ones.
Hours before Begum was found, emergency crews had pulled the 1,000th corpse from the heap of rubble, twisted metal and machinery. The army said the death toll from the April 24 collapse, the world's worst industrial disaster since Bhopal in India in 1984, had reached 1,089 by Saturday.
When word spread that a woman, identified by Bangladeshi media at first only as "Reshma", had been found - trapped but alive - her relatives began to believe the unimaginable.
SEEKING HER FORTUNE
Begum's journey to the factory floor was typical of a generation of young Bangladeshi women who have sought to escape lives of rural drudgery by winning jobs in a burgeoning garment industry, tempted by by the prospect of regular wages even if safety standards are sometimes lax.
Islam, 33, said their family lived in a village called Koshi Gari, 414 km (259 miles) north of Dhaka. He had found a niche selling sweet fried cakes to local children, but Begum dreamed of a new life in the big city.
Three years ago, Begum moved to Dhaka, Islam said, joining several million women working in factories that supply retailers including Walmart Stores Inc, Tesco Plc and H&M .
After finding her first job she married, Islam said, but her husband began to pilfer her earnings and she soon left him.
"He beat her brutally, which forced her to divorce him," Islam said.
On April 2 this year, Begum found a job at New Wave Bottoms, a garment maker on the second floor of Rana Plaza, the doomed building, which imploded a day after its owner assured nervous workers it would stand "for a century".
Hossain, the army officer, said Begum had not packed the home-made lunch that garment workers customarily prepare. She had, however, been carrying four small packets of biscuits and a bottle of water - provisions that would save her life.
Islam said the family had given up hope Begum would be found alive, and had only cherished the wish that they would finally be reunited with her remains.
"For the last 17 days, we have been waiting to get her body to take home and to bury at our family graveyard," Islam said. "This is unbelievable. It means that anything can happen." (Reporting By Serajul Quadir; Writing by Matthew Green; Editing by Nick Macfie)
BEFORE YOU GO
PHOTO GALLERY
Photos Of Bangladesh Woman's Rescue