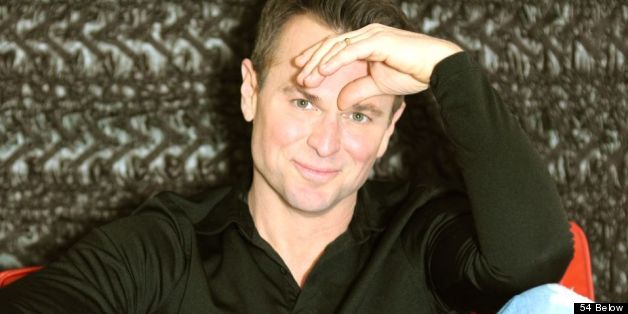 With stage and screen credits, nine studio albums and a "Star Search" title to his name, Sam Harris can wax poetic about more than three decades' worth of show business experiences.
Still, the 51-year-old entertainer says his latest project -- a "non-linear, non-chronological, memoir-ish" collection of essays titled Ham: Slices of a Life -- was his most daunting yet.
"A book just sounds so ominous -- it sounds so different and larger than other mediums," Harris, who shot to fame as the winner of "Star Search" during the show's premiere 1983 season, said of Ham. As he finally sat down to write, Harris realized his literary concerns couldn't have been more off-the-mark: "It was the cake-iest, smoothest experience. It's childhood, it's show business, it's parenthood -- it's all kinds of stuff."
Harris is thrilled to share many of those stories as part of his new cabaret act, which opens May 12 at New York's 54 Below. His performances will pair an eclectic musical set that includes both pop and Broadway fare with a selection of personal and professional anecdotes read directly from segments of the forthcoming book, which hits bookstores in January 2014.
Though Harris personally hoped to create "a show with a theatrical arc," with songs by U2, Bonnie Raitt and Stephen Sondheim among others, audiences will find his signature comic flair, as seen on TV sitcoms like "Down to Earth" as well as in musicals like "The Life" and "The Producers," intact.
"I hate when you get to the end of a show and it's like, 'Here's the message.' I'm not at all like that," Harris said. "But I do like to share a perspective, usually comically, that hopefully will leave my audience with a sense of something afterward."
The singer, who has long been dedicated to fighting for lesbian, gay, bisexual and transgender (LGBT) equality, now seems to find strength in subtlety. Though he doesn't feel compelled to address gay issues specifically in his performances –- "It's not making it a big issue that I think is valuable," he noted -- Harris does find value in visibility, offering fans a frank and honest peek into his personal life while on stage.
"I think the best thing any of us can do is to live a full, happy life," Harris, who married longtime partner Danny Jacobsen in 2008 and recorded the marriage equality anthem "My Reclamation" two years later, said. "It doesn't mean that anyone who's gay has a responsibility to go out and become a militant activist, but when things are happening and changing societally, there is unfortunately and fortunately a microscope [on the gay community]. Be a good citizen, be a good person, spouse, parent –- be a model. The spotlight is on us."
He offers praise for today's crop of successful performers who are openly gay and in the spotlight: "When I was growing up in Oklahoma, there were no role models at all, not on TV or film or in politics or sports. So it's a different time now, and it's very good."
Though Harris says more performances (including some with longtime pal Liza Minnelli) are in the works following his 54 Below gigs, family is his main focus these days; he and Jacobsen adopted their son, Cooper Atticus Harris-Jacobsen, just months before tying the knot. "Life and show business are constantly in cycle…I've got to make snacks and take my kid to ride his bike, that's where my mind is at these days," he joked. "The challenge now is keeping up."
Sam Harris plays New York's 54 Below on May 12 and 13. Click here for more information.

BEFORE YOU GO
PHOTO GALLERY
Sam Harris Through The Years