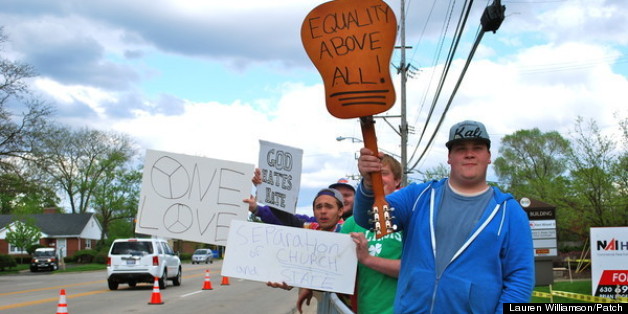 Story by Lauren Williamson, courtesy of Western Springs Patch
A protest against the same-sex marriage bill awaiting a vote in the Illinois House stayed relatively peaceful Saturday afternoon, save for one physical confrontation outside State Rep. Jim Durkin's Western Springs office.
About 75 protesters from the Illinois Family Institute (IFI) gathered at 915 55th St. from 3-4 p.m. to oppose what they call a "fundamental change in our culture normalizing homosexual behavior."
IFI Director David Smith said the group targeted Durkin's office for one of three protests on Saturday because the Republican 82nd District representative has not taken a stance on Senate Bill 10. The Illinois Senate voted to approve the bill in February.
"If he does not understand the moral issue of it, we're here to shed a little light on it and help him do the right thing," Smith said.
BEFORE YOU GO