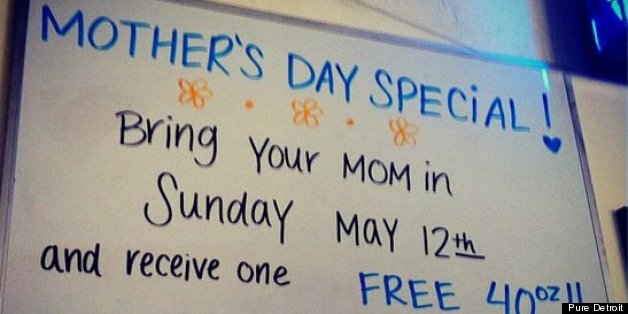 Mother's Day only comes around once a year, and it's a time to take a moment to celebrate moms and thank them. It is also, some might argue, a time to get drunk at the bar with the woman who gave birth to you.
While brunch, flowers and a restful morning are more traditional Mother's Day gifts, one bar in Detroit is banking on the fact that all families bond in different ways. Pure Detroit spotted this less-than-classy special for moms and (adult) kids at Honest John's: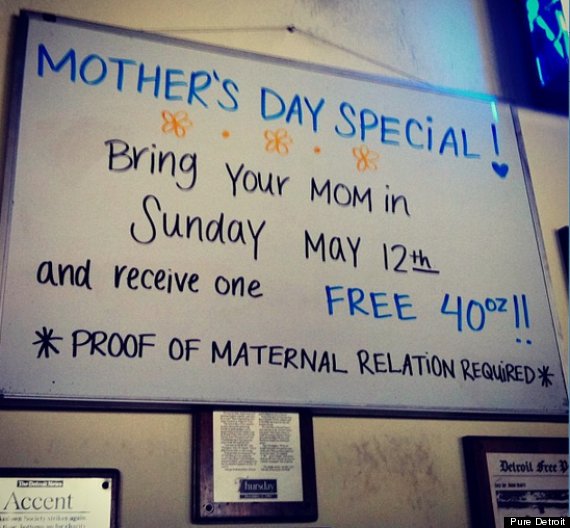 As Sublime might have said, "A 40 oz. to freedom is the only chance I have [to show my mom how much she means to me]."
Would your mom freak out if you presented her with 40 ounces of malt liquor this Sunday ... or would she be happy to have something stiffer than orange juice? And is this better or worse than a free meal at Hooters'?
If you must drink cheap beer this Mother's Day, HuffPost Taste did you the favor of picking the best of the budget-friendly:
PHOTO GALLERY
Bottom Shelf Beer Taste Test, 2012
BEFORE YOU GO